By Colleen Long





(Budget Travel) -- At a London restaurant three years ago, Olivia Giovetti, a Los Angeles writer with a severe allergy to hazelnuts, asked if the crepes on the menu were made with Nutella. The waiter assured her it was chocolate -- but he was wrong.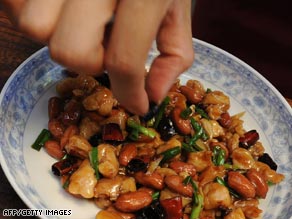 Carry a note card that clearly states, in the language of the country you're visiting, what foods you can't eat.
"Thankfully, I had an [epinephrine auto-injector] with me," says Giovetti. The pen came in handy, but who wants to have to go to those lengths? And imagine if there were a language barrier on top of it all.
Giovetti took one big lesson from her experience: Double-check with the chef! Here are four other pointers to help you eat with abandon, wherever you plan on going.
Bone up on the local food
Before you leave home, create a menu of simple -- and safe -- dishes you can order abroad (your favorite ethnic restaurant may be able to help you out). If you're going on a tour, ask the operator about regional differences in the food that may affect you.
Chat rooms on food Web sites are also a good source for information. Giovetti says she has posted questions on chow.com before several trips and received helpful advice from other travelers on specific dishes to avoid. Budget Travel: How to eat street food without ruining the trip
Get carded
Be sure to carry a note card that clearly states, in the language of the country you're visiting, what foods you can't eat. Showing this to the waitstaff at a restaurant will save you the trouble of trying to explain your restrictions. You can order the cards in about 30 languages at selectwisely.com (from $6.50) and allergytranslation.com ($7.50).
Make a flight plan
As long as you give them advance warning, many airlines will cater to your particular allergy needs by preparing special meals, such as ones that are gluten- or lactose-free. But then, there's also the potential danger of the free bags of peanuts.
Carly Goldberg, a student in New York who is allergic to nuts, offers to buy her seatmates a drink if they agree to pass up their peanuts. "Most people are pretty receptive to it," she says.
Beat the dinner crowd
Eating out at off times will ensure that waiters will be able to focus more attention on your needs. Calling ahead also gives restaurants more time to prepare, especially if they need to make changes to a dish.
And if you feel like you're still not getting through to the waiter when you're ordering, go straight to the source: "You need to talk to the people in the kitchen," says Kellie Schmitt, a journalist living in China who is allergic to pine nuts. "They're the only ones who know exactly what's in each dish."
E-mail to a friend

Get the best travel deals and tips emailed to you FREE - CLICK HERE!
Copyright © 2009 Newsweek Budget Travel, Inc., all rights reserved.
All About Allergies • Travel and Tourism