By John Blake
CNN
(CNN) -- Nway pretends that it never happened.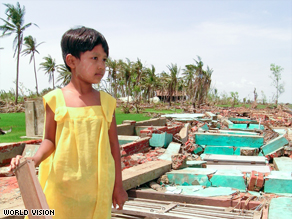 Nway walks among the ruins of her village school, which was destroyed by Cyclone Nargis.
The storm didn't come. The wind didn't tear her home to pieces. The cyclone didn't sweep her mother and father away.
In those brief moments, when she tunes out the questions, the 7-year-old girl from Myanmar can step back in time, before May's Cyclone Nargis took everything away.
That's the girl aid workers from World Vision International, a Christian humanitarian group, found when they met Nway in her demolished village a month after the cyclone.
"When she was asked about the cyclone, she turned away and said she didn't remember anything about it and left," said Ashley Clements, a World Vision worker who met Nway.
International relief groups know how to rebuild devastated countries like Myanmar. But how do they rebuild the lives of children like Nway? That's the challenge faced by groups trying to help child survivors of natural and manmade disasters.
'The Survival Project'
Stories of children at risk around the world. CNN's Dr. Sanjay Gupta and UNICEF tell you how to make a difference.
July 6, 8 p.m. ET
Aid workers who deal with these children say the experience can drain their souls. They try to comfort children in Darfur, Sudan, who have seen their mothers raped; children in China who have seen their parents buried under rubble; children in Louisiana who watched their homes destroyed by Hurricane Katrina.
No matter where they encounter these children, these aid workers face the same question: How can a child remain a child after experiencing a tragedy?
Rose Kimeu, a disaster response specialist for World Vision in Africa and Latin America, says many children don't know how.
"They don't laugh. They don't smile," Kimeu said. "They have this look in their eyes that's very sad. ... It's something that breaks my heart over and over."
How they become children again
World Vision tries to help children like Nway by establishing "child-friendly spaces." The concept is simple: give children a place to be children.
Aid workers secure a place where children can play with toys, sing and play sports. In between the fun, the group offers professional counseling, health care and classes.
Other aid groups employ the same approach. Mercy Corps, an international aid group established two programs -- Comfort for Kids and Moving Forward -- to protect child survivors from the recent earthquake in China from symptoms of post-traumatic stress disorder.
Save the Children, another international aid group, created "safe spaces" for children during the 1993 Balkans War and for American children displaced by Hurricane Katrina.
Sometimes these traumatized children end up helping their helpers, says Kate Conradt, a Save the Children spokesperson.
"One of the bright spots in grim situations is the sight of children happily playing," she said. "Despite the chaos and debris that may be around them, they can totally get down to what is important: simply being a child. It's often the best part of our day: to see them laugh."
Some of the bright spots can be dramatic.
Deb Barry, a child protection advisor for Save the Children, recalls meeting a boy who had not spoken to his grandparents for nine days after the recent China earthquake.
"He had not been able to really express himself," Barry said. "But on this first day in the child-friendly space, he sat down and began drawing pictures. And he started talking again within 20 minutes."
The boy's grandmother was so happy that she hugged the staff. She called it a miracle.
What Nway wants for her future
But some of the memories aid workers carry around with them are more painful to recall.
Dean Hirsch, president of World Vision International, just returned from visiting some of the child-friendly spaces. He was struck by the children's body language.
"A lot of the children were holding on to each other," he said. "If their mother was there, they would hold on to her, or if she wasn't, they'd hold on to the workers."
The children spent a lot of time drawing pictures of their homes, toys and pets.
"They were trying to restore through their memories what they had," Hirsch said.
A child who loses a parent faces plenty of dangers, Hirsch says. They could suffer brain damage or stunted growth if they don't eat enough.
"If they lost their father, the income source is gone," he said. "If it's the mother, it's that person who did the food and supplied the love."
The children face other risks as well. They become easy targets for human traffickers. Some girls are exploited sexually by men.
When World Vision established child-friendly spaces in Darfur, Kimeu, the group's disaster response specialist, says her staffers noticed something odd. No girls would visit.
They later found out why. Many of them had been raped or seen their mothers raped. World Vision had male workers in the child-friendly spaces.
The healing process varies with each child, Kimeu says. She says there was one girl who was raped in Darfur who took a year to play with other children.
Some never heal. In Uganda, some former child soldiers introduced to the child-friendly spaces never learned to be children again.
"Former child soldiers are very difficult," Kimeu said. "Some of them have killed not one but several people."
Today, Nway is being helped toward her own recovery. She lives in a village with her aunt. She plays with her friends during the day in child-friendly spaces and looks after her little cousin.
At times, Nway returns to her old village with the adults. She walks over the ruins of her old school. She proudly wears a yellow silk blouse that was donated to her. But she and the other villagers have a difficult time ahead. The cyclone blew away rice, utensils, farming tools -- even the village's cows and buffalos were swept away.
Nway may no longer talk about her past but she will talk about her future. Clements, the World Vision staffer who visited her, once asked Nway what she wanted to be when she grew up.
She talked that time. Her answer revealed that though she might not be ready to talk about her own wounds, she's already becoming more sensitive to the pain of others.
"I want," she answered after hesitating, "to be a doctor."
E-mail to a friend

All About Myanmar • World Vision • Save the Children