From Bill Mears
CNN Supreme Court Producer
WASHINGTON (CNN) -- The U.S. Supreme Court on Monday dismissed a former Army scientist's lawsuit against The New York Times. Steven Hatfill sued the newspaper, accusing it of libel over reports he said falsely linked him to the 2001 deadly anthrax attacks.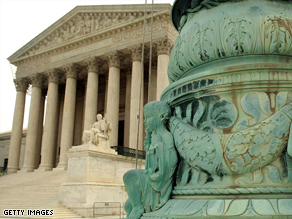 The justices refused to intervene in a former Army scientist's libel suit against The New York Times.
The justices without comment refused to intervene, effectively ending the libel case. A federal appeals court had earlier concluded Steven Hatfill is a "public figure" and that he failed to prove the reports were "malicious," a necessary legal standard for libel.
Then-Attorney General John Ashcroft had named Hatfill a "person of interest" in the massive anthrax investigation, but he was never charged. Investigators searched his house, and the media reported extensively on his background as a biodefense expert.
In June, the U.S. Justice Department settled his separate lawsuit against the government, which agreed to pay him $5.8 million. He claimed officials violated his privacy by leaking details of the case and his background to reporters.
The lawsuit rejected by the high court was against the Times and columnist Nicholas Kristof. Kristof initially identified Hatfill as "Mr. Z." in a series of columns in May and June 2002. He named Hatfill in an August 2002 column.
In his lawsuit, Hatfill claimed that "Kristof wrote his columns in such a way as to impute guilt for the anthrax letters to Dr. Hatfill in the minds of reasonable readers."
"I am not the anthrax killer," Hatfill declared in a news conference after filing his suit. He has repeatedly denied any involvement in the attacks.
No one was ever charged in the lethal bacteria attacks that killed five people and left 17 people seriously ill in fall 2001. The spores were mailed to several politicians and media organizations and wound up infecting several postal employees.
The government in August announced its investigation pointed to another Army scientist, Dr. Bruce Ivins. He was a microbiologist stationed, along with Hatfill, at Fort Detrick, Maryland. Ivins committed suicide as the federal probe focused on him.
E-mail to a friend

All About Anthrax • Bruce Ivins