HARARE, Zimbabwe (CNN) -- Zimbabwe's main political opposition party refuses to join a unity government with President Robert Mugabe unless several conditions are met, a party official warned Friday.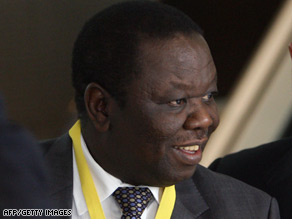 MDC leader Morgan Tsvangirai accuses Robert Mugabe's ZANU-PF party of grabbing key ministries.
Movement for Democratic Change Vice President Thokozani Khupe said those conditions include amending the country's constitution to allow for the new posts and institutions that were created under a power-sharing agreement signed by Mugabe and MDC leader Morgan Tsvangirai.
"Given the lack of sincerity and lack of paradigm shift on the part of ZANU-PF, the MDC shall participate in a new government once the constitutional amendment has been passed and effected into law," Khupe said.
MDC and Mugabe's ZANU-PF signed the power-sharing resolution in September, but it has failed to ease political tensions. Tsvangirai accuses Mugabe of grabbing all key ministries such as home affairs, information, local government, foreign affairs and defense.
Khupe said the MDC wants an "equitable distribution" of existing ministerial posts if it is to join a government with Mugabe.
"In the event of an illegitimate government being unilaterally formed, the MDC will not be (a) part ... and will peacefully, constitutionally and democratically mobilize and campaign against the illegitimate government," she said.
On Wednesday, the ZANU-PF party resolved that it must form a government of national unity, regardless of Tsvangirai's position.
Khupe rejected that move, saying that "neither Robert Mugabe nor ZANU-PF has the legitimacy to form a government."
Tsvangirai garnered the most votes in the March vote, but did not win enough to avoid a runoff with Mugabe, who has ruled the country since its independence from Britain in 1980, when it was called Rhodesia. Britain is one of many countries that do not recognize Mugabe's reelection.
The MDC leader withdrew days before the June 27 runoff, alleging that Mugabe's supporters had waged a campaign of violence and intimidation against opposition supporters.
He said he could not participate in the election, which he condemned as a "sham."
Last week, the Southern African Development Community -- a group of nations charged with mediating the situation in Zimbabwe -- proposed that two ministers would oversee the Ministry of Home Affairs, one from the MDC and one from ZANU-PF. SADC asked both sides to assess that arrangement over the next six months
On Wednesday the ZANU-PF party resolved that it must form a government of national unity, saying that SADC had addressed the outstanding issues.
But Khupe rejected that position, noting that only Mugabe was present at last week's SADC summit in South Africa. Neither Tsvangirai nor the leader of a splinter MDC faction, Arthur Mutumbura, was present.
"Neither Robert Mugabe nor ZANU-PF has the legitimacy to form a government," Khupe said. "The SADC resolution does not bestow Mugabe with the right to form a government."
E-mail to a friend

All About Zimbabwe • Politics • Robert Mugabe • Morgan Tsvangirai