(CNN) -- Pirates have reached a deal with the owners of a Ukrainian ship loaded with arms that was seized more than two months ago, an official with the Kenya Seafarers Association said Sunday.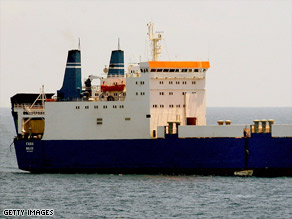 The U.S. Navy released this image of the MV Faina, which is loaded with weapons and tanks.
"A deal has been reached to free the MV Faina. Talks on how to deliver the ransom money are ongoing," Andrew Mwangura of the association told CNN.
It is not clear how long those talks will take, but the ship could be freed as soon as an agreement has been reached.
The ship, which is laden with Soviet-era tanks, tank artillery shells, grenade launchers and small arms, was seized on September 25.
It was heading for Kenya, whose government had bought the weapons from Ukraine, Ukrainian Defense Minister Yuri Yekhanurov said, according to the Interfax-Ukraine news agency.
After the hijacking, the U.S. Navy sent ships to monitor the vessel for fear its cargo could end up in the hands of terrorists. Lt. Nathan Christensen told CNN in September, "Several are in visual range, and several are in the immediate vicinity," but refused to say exactly how many U.S. vessels were involved.
Fighting broke out among the pirates four days after they seized the ship, with some wanting to surrender and others refusing to hand over the ship. Three pirates were killed in the shootout, Mwangura told CNN.
The pirates originally asked for a $35 million ransom, but lowered their demand to $20 million, he said.
Don't Miss
The Faina is owned and operated by Kaalbye Shipping Ukraine, and its crew includes citizens of Ukraine, Russia and Latvia, the Navy said.
Earlier this month, Kenya's foreign minister claimed more than $150 million has been paid to pirates around the Horn of Africa -- a piracy hotspot -- over the past 12 months.

Map of pirate activity in the area »
The money is encouraging them to continue and become more brazen in their attacks, Foreign Minister Moses Wetangula told a news conference in the Kenyan capital.
"That is why they are becoming more and more audacious in their activities," Wetangula said.
Pirate activity off the coastline of east Africa is a cause of growing international concern, with a number of ships -- including the Saudi-owned supertanker Sirius Star -- being captured in the past few weeks.
The Gulf of Aden is now being patrolled by a number of international navies.
E-mail to a friend

-- CNN's David Mckenzie contributed to this report.
All About Gulf of Aden • Somalia • Pirates • Kenya