(CNN) -- A Zimbabwean government spokesman on Tuesday claimed "the cholera situation is under control" and argued the West not only caused the health crisis but is using it as an excuse for military intervention.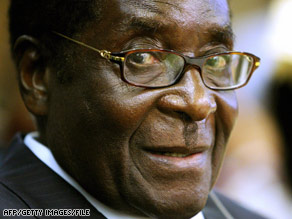 The humanitarian crisis in Zimbabwe has led to calls to remove President Robert Mugabe from power.
The country's information minister, in remarks to reporters, sloughed off international criticism over Zimbabwe's handling over what the United Nations calls a deadly outbreak -- killing nearly 600 people.
"After squeezing and strangling the country with sanctions and contaminating it with cholera and anthrax, the West is seeking to use the window of opportunity provided by the disaster to justify military intervention," said Sikhanyiso Ndlovu. "The cholera situation is under control."
Zimbabwe, already experiencing an economic crisis, was struck with the raging water-borne cholera in August. Health experts say the battle against the ailment can only be won if Harare has adequate water-treating chemicals and disposes of refuse properly.
"We have enough chemicals to purify the water. We have got enough foreign currency to buy pipes" to mend sanitation lines, Ndlovu said.
He took a swipe at those who have been blaming President Robert Mugabe's government for the cholera crisis, including the country's main opposition leader, Morgan Tsvangirai, and Kenyan premier Raila Odinga.
Odinga has joined British Prime Minister Gordon Brown and French President Nicholas Sarkozy and U.S. President George W. Bush in calling for Mugabe to step down for failing to contain cholera in Zimbabwe.

Watch how pressure is building on Mugabe »
"I don't have kind words for all heads of state who have made utterances against Zimbabwe one by one, and I hope this is the last time they open their dirty mouths on Zimbabwe," he said.
"Raila Odinga, our brother from East Africa, he must know that we are brothers and sisters. It's only Odinga's mouth which has got bad breath, the moment he opens it [he] spoils the good relations. He must shut up."
Ndlovu said Tsvangirai ignored regional leaders in the Southern African Development Community who urged him to form a government of national unity with Mugabe.
"If he (Tsvangirai) was a genuine African leader with feelings for Zimbabweans, he would have taken heed of the call by SADC to facilitate a speedy formation of an inclusive government, but his actions show that he is a puppet of the West," he said.
Mugabe and Tsvangirai signed a power-sharing deal in September, but it has yet to take effect. The opposition accuses Mugabe of taking control of all the key ministries such as information, foreign affairs, local government, finance, defense and home affairs.
The International Committee of the Red Cross, meanwhile, is ramping up its response to the outbreak.
The ICRC said on Tuesday that a doctor specializing in infectious diseases and a medical logistician specializing in health, sanitation and hygiene have arrived in the country. Last week, the agency delivered 13 tons of medical supplies to the ICRC in Harare, Zimbabwe's capital.
The specialists are determining the effect of the outbreak in remote regions and hope to improve case management and emergency preparations in clinics that have not yet dealt with cholera.
"Since yesterday they have been assessing the situation in order to determine how we can do more to help those who have contracted cholera or are at risk of developing the disease," said Benjamin Fouda, the ICRC's health coordinator in Zimbabwe.
Along with the hundreds of deaths, about 14,000 cases have been recorded.

Watch more about the cholera crisis in Zimbabwe »
The cholera outbreak is part of a larger humanitarian crisis and economic meltdown in Zimbabwe, in which half the population is in dire need of food and water, according to the United Nations.
The United States is among those nations looking for ways to deal with the humanitarian situation.
"We have tried to take some steps to try to address the immediate humanitarian crisis that is ongoing there by allocating several hundred thousand dollars in USAID assistance specifically to address the cholera threat in Zimbabwe," McCormack said. That money is in addition to more than $4 million in U.S. aid for water treatment projects in Zimbabwe, he added.
High-level Pentagon officials are monitoring the situation every day, but at the moment there is no military planning for any type of medical aid.
The outbreak serves as an example of how a disease can affect regional security. The United States can't do anything without a diplomatic request from Zimbabwe, but neighboring countries could request medical help to avoid having the epidemic spread, a military official said.
"The chairman certainly is concerned. He is watching the situation closely," said U.S. Navy Capt. John Kirby, spokesman for Joint Chiefs of Staff Chairman Adm. Michael Mullen. "This has his attention. It's getting worse. We understand that."
As for intervention, the United States could invoke the U.N.'s "responsibility to protect" provision to intervene there, but it would need the rest of the U.N. Security Council to go along.
E-mail to a friend

CNN's Barbara Starr contributed to this report.
All About Zimbabwe • Robert Mugabe • Kenya • Cholera