By Paul Willis
For CNN

LONDON, England (CNN) -- When Americans go to the polls this November, there will be many factors that influence where they eventually decide to cast their vote: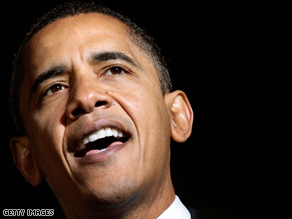 Barack Obama's narrative of unity chimes well with his mixed race background.
The Iraq War, the economy, political allegiances, image, age and race -- these are all things that could affect voters' choices.
Yet as the two leading candidates, Republican John McCain and Democrat Barack Obama, do battle on these and other issues between now and election day, it could all boil down to one simple question.
Whose story do you prefer?
It may not come as much of a surprise to hear that politicians are adept at telling stories. But in the modern political age, our leaders have increasingly relied on creating narratives around themselves and their ideas to communicate with us.
"If you look at the political landscape today, you see leaders everywhere consciously building a story around themselves," says Tony Travers, a political analyst from the London School of Economics.
Take the Democrats' great hope, Obama.
The Illinois senator's team has woven a carefully crafted narrative around him based on the notion of change -- a "change we can believe in" as the campaign slogan puts it. Time and again in speeches, Obama also promises to unify a divided nation.
These twin messages of change and unity have struck a chord, particularly among the young and ethnic minorities. They are inclined to take Obama at his word, even though they might mistrust high-minded statements like these in the mouth of another politician.
A key reason for this is that Obama's life story perfectly echoes the central narrative of his campaign. The son of a black Kenyan and a white Kansan, who has apparently come from nowhere to become the Democrats' presumptive presidential candidate, when Obama talks about unity and change he sounds authentic.
The Republican candidate also has a story to fall back on. Fearful of being too closely associated with an unpopular president, McCain's team has painted him as a political maverick with a reputation for integrity and moral courage.
As with Obama, this fits neatly into his extraordinarily dramatic personal history: A Vietnam War veteran, the senator for Arizona was shot down by the North Vietnamese on a bombing mission in 1968 and held captive for five and half years. In that time he was repeatedly tortured after refusing repatriation on the grounds his father was a U.S military commander.
It is clear both candidates are aware of the appeal of their respective stories, having both published best-selling books about their lives. McCain's memoir "Faith of My Fathers" was even made into a television film -- and he frequently refers to his past in speeches.
Storytelling is a good way to reach out to an electorate who might otherwise be switched off by a drab listing of policy. Do you think you could be persuaded by a politician's story over their policies?
Crafting an interesting narrative, by contrast, is much more likely to get folk listening. After all, who doesn't like stories?
McCain and Obama are not blazing a trail with this technique, however.
According to Travers, political storytelling has a long history. The British wartime prime minister and renowned orator Winston Churchill created a story about the British national character to boost morale and retain support for the war effort, says Travers.
"It was based on Churchill's own slightly mystic view of the British as this island race," he says. "This view of Britain -- that many were uncomfortable with -- nevertheless became a useful, stylized picture in convincing the country to fight on when all appeared lost."
Other political leaders have unconsciously had narratives attached to them, he says.
Ex-British leader Margaret Thatcher was the daughter of a grocer. After she was elected Britain's first-ever female prime minister the press picked up on this modest middle-class background, parodying her as the frugal housewife with a tight grip on the nation's purse strings.
Although not of her own creation, she used the narrative to convey an image of herself as a safe pair of hands guided by economic common sense.
"It crept up on her. It was an evolved narrative that she was ultimately quite comfortable with," says Travers.
In the modern political era the template for great storytelling was created by Bill Clinton during his 1992 election campaign.
The famous "Man from Hope" documentary distributed by the Democratic National Committee has Clinton recounting the moving story (about himself) of a little boy from a town called Hope, Arkansas, who dreams of "being part of something bigger than themselves."
Political experts have called it the "greatest narrative commercial ever written" and there is no doubt that since it was made its format has been borrowed from heavily, as well as its content -- Obama's personal memoir is called "The Audacity of Hope."
However, should we welcome storytelling in politics or is it ultimately a distraction from the real issues? Perhaps. But witness what happens to leaders who have tried to take politics away from narrative and go back to facts and figures.
The current British prime minister Gordon Brown retains an obsession for statistics and numbers, but his monotone attempts to convey this enthusiasm in speeches in the British parliament have contributed to his plummeting popularity.
The truth is we're all suckers for a good story, and it's just a matter of which one sounds the most convincing.
E-mail to a friend

All About Barack Obama