From CNN's Simon Hooper
RICHMOND, Virginia (CNN) -- Virginia was braced for record turnout and long queues at voting stations as the key swing state prepared to go to the polls in Tuesday's U.S. presidential election.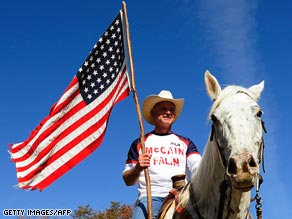 Virginian Forest Whorton waves the flag for McCain.
The traditionally Republican-leaning state has been the scene of a fierce campaign ground war with Democrats seeking to capitalize on surging voter registrations to turn Virginia blue for the first time sine 1964.
Around 10 percent of the electorate has already cast absentee ballots -- a system allowing those unable to get to a voting station Tuesday to vote early -- but Nancy Rodrigues, Secretary of the State Board of Elections, warned voters to be prepared to stand in line.
"Bring your patience with you, bring your sense of humor and know that democracy takes time," she told reporters Monday.
Almost half a million people have registered on Virginia's electoral roll since the last presidential vote, pushing the electorate to more than five million, according to figures released State Board of Elections.
Voters will cast ballots at 2,400 polling stations around the state, overseen by 30,000 election officers.
Many of Virginia's new voters have registered in urban areas and college communities, suggesting a surge of support for Barack Obama, according to Van Parish, Virginia State Director for America Votes, an organization promoting voter registration.
Van Parish said African-Americans -- who make up around 20 percent of the Virginian electorate -- were set to vote in unprecedented numbers and said interest in the election was the highest he had experienced in 30 years of political involvement.
"The focus on Virginia and Obama's candidacy has energized activists and people who just didn't participate before," he told CNN. "They realize their state, their neighborhood or even their block could make a difference this year."
But Parish warned that the electoral system would likely be "swamped" Tuesday. "Already in early voting states we are seeing two- or three-hour lines. So we're braced for whatever happens. In this country we like our stuff done fast, so we don't know what's a reasonable amount of time that people will wait in line."
John Moeser of the University of Richmond said Republicans and Democrats were both likely to come out in force Tuesday.
"People are very strong in their commitments and there is a lot at stake. Republicans know the whole conservative movement is at stake.
"When you have a race that is so close it could even decide who is going to be the next president, that's when you start butting heads in a place like Virginia."
The closeness of the race in Virginia has also raised concerns over dirty tricks.
Last week the State Board of Elections was forced to issue a statement telling voters to disregard a flyer distributed in the highly competitive Hampton Roads region urging Republicans to vote on November 4 and Democrats to vote on November 5 -- which would have been a day late.
Following Republican candidate John McCain's visit to the state over the weekend, Obama was due to make a final pitch to Virginian voters at a rally Tuesday night in Manassas, northern Virginia.
Jim Nolan, a reporter with the Richmond Times-Dispatch said the challenge for both campaigns was not convincing people but mobilizing the vote.
"It's about closing the deal and getting people to the polls," Nolan told CNN. "If Obama is going to win he needs to expand the base with a high turnout among young people and African Americans. There's no question his campaign has energized both of those but will they come out to vote?"
E-mail to a friend

All About Barack Obama • John McCain • George W. Bush • Sarah Palin