MEXICO CITY, Mexico (CNN) -- Police found nine human heads and nine headless bodies in the Mexican state of Guerrero on Sunday, and some of the remains were of soldiers, officials said.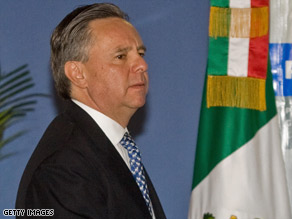 Attorney General Eduardo Medina Mora said organized-crime killings have climbed in Mexico in 2008.
The heads were found in Chilpancingo, the state's capital, and the bodies were found at a different location in Chilpancingo, officials said. Information on whether the heads belonged to the bodies wasn't available.
Police identified eight soldiers and one high-ranking former police officer among the victims, Zeferino Torre-Blanca, governor of Guerrero told CNN on Sunday.
Guerrero, a major tourist destination, is in southern Mexico on the Pacific coast and includes the resort city of Acapulco.
Decapitation has become a tactic used in Mexico by drug cartels fighting off rival traffickers, police and troops. However, authorities wouldn't say whether the remains found Sunday were linked to drug-related violence.
In August, the headless bodies of 12 men were found in the state of Yucatan. That month, Yucatan's governor said the killings appeared to be the result of disputes between drug cartels.
Attorney General Eduardo Medina Mora said this month that organized-crime killings climbed to 5,376 in 2008, more than double the 2,477 such deaths in 2007.
Don't Miss
Against the backdrop of bloodshed, Mexican leaders are scrambling to combat drug crimes.
On Friday, the United States and Mexico pledged to beef up efforts in the war against drugs.
Top officials from both countries met at the U.S. State Department to discuss a $1.4 billion U.S. initiative to help Mexico fight drug trafficking and organized crime.
The U.S. Congress recently approved an initial $197 million, which the Bush administration made available to Mexico earlier this month.
E-mail to a friend

CNN Espanol's Ray Rodriguez contributed to this report.
All About Mexico • Organized Crime