From CNN's Reza Sayah
ISLAMABAD, Pakistan (CNN) -- Police near Pakistan's capital seized three explosives-filled vehicles and detained a half-dozen people overnight Thursday.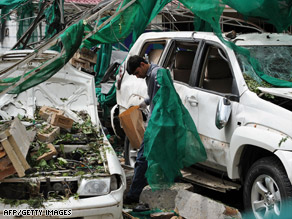 The Danish Embassy in Islamabad was hit by a suicide car blast earlier this week that killed six people.
The bust that comes while the Islamabad area is still on high alert after the suicide car bombing at the Danish Embassy earlier this week.
The seizure was the result of a tip, and it took place in suburban Rawalpindi -- the city near Islamabad, a source in Islamabad's police told CNN on Friday.
Police pulled over two Toyota Land Cruisers and a Toyota Corrolla. They found around 1,100 kilograms, or around 2,200 pounds, of explosives. Six people in the cars were being questioned, the source said.
Islamabad and Rawalpindi have been on high alert after the blast on Monday outside the Danish Embassy killed at least six people. A Web posting purportedly from al Qaeda has claimed responsibility.

Watch aftermath of attack »
Don't Miss
The statement was posted late Wednesday on a Web site frequently used by Islamic militants.
It said the bombing in Islamabad honored a promise by al Qaeda leader Osama bin Laden to retaliate against Denmark after newspapers there reprinted cartoons that Muslims say insult their prophet.
Wednesday's message warned that more attacks will follow if Denmark refuses to apologize for the cartoons.
CNN could not independently confirm the authenticity of the message.
E-mail to a friend