(CNN) -- For Anand Mahindra business is in his blood. But even as the vice chairman and managing director of Mahindra & Mahindra, one of India's biggest conglomerates, he still feels the company has plenty to do.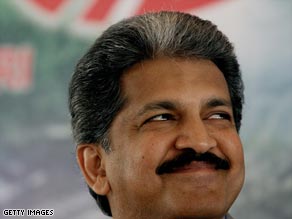 Company diversification and a healthy slice of India's automotive market keep Anand Mahindra smilng.
"We've been consigned to the garbage heap in history so often that it's become fun. And we're still sitting here with 50 percent of the market in every segment we compete," he told CNN.
Ploughing a healthy furrow in the tractor market, the basis of the company's success, Mahindra & Mahindra has diversified into steel production, technology, real estate development and financial management.
Forbes listed it among its Top 200 of the world's most reputable companies, and it has recently joined up with Renault to expand into India's booming car market.
Set up in 1945, Mahindra likes to compare the company's development to the development of modern India itself.
Show times
Friday

2330 (Asia/South Asia/North America)

Saturday

1500 (All Regions)

Sunday

0030 (Europe/Asia/South Asia/North America)

0730 (All Regions)

1300 (Asia/South Asia/North America)

"There were a lot of uncanny similarities between our cardiogram and the country. It's not overall grand assessment. It's simply an interesting observation," he said.

Founded as Mahindra & Mohammad, it became Mahindra & Mahindra after partition in 1947, with Ghulam Mohammad going on to become Pakistan's first finance minister. (The eponymous Mahindras of the company name are Anand Mahindra's grand uncle and grand father.)

"We went through a flurry of entrepreneurial activity in 1950's, just as the country did, lot of idealism, lot of free market growth. And then when the country slipped into its socialist sunderance, so did the company," he said.

The currency crisis in India in 1991 also meant for hard times for the company, but also the economic reforms that came after it, from which Mahindra & Mahindra have benefited.

Mahindra himself took a slightly circuitous route to the family business, studying architecture in Mumbai and then film and photography at Harvard. The idea of going straight into the cozy confines of the family company was never on the cards.

"I rebelled against all that. I just couldn't stand the thought of fitting into a groove, never getting credit of what I could achieve on my own. And that's why I went into a completely different path as a student," he told CNN.

"I simply wanted to prove that I could do well in something so far removed from what daddy was helping me do that I'd build my own confidence."

After a brief foray into film be went to Harvard Business School in 1979 and first joined the Mahindra Group in 1981.

With Indian economic growth continuing apace, it's his job to help maintain the rise of India as an economic power and keep up with the changes in society.

While product innovation is key, so is addressing some of the darker trends of rural development in India.

"We can talk about this brave, new India which is coming up, which is fortunately now being read about in the US. But as long as there are farmer suicides nobody can claim that, that new India has arrived so that's a responsibility for all of us," he told CNN.

"That's why we've been trying to improve farm's income by providing the extension services, in other words, the inputs, technological inputs, seeds, fertilizers, advice on growing, organic growth inputs."

Not being the biggest company in the world then is not an issue for Mahindra, just as long as there is healthy competition, and all the better if it's from close to home.

"I'm personally delighted that the No. 1 competitor for us [Tata] is an Indian competitor. I think that says a lot about the Indian economy"
"I think that the idea of China as a heavyweight competitor for India is the best thing that ever happened to India. It's the best wake up call we ever had," he said.
"The day that China falls behind us, if ever, would be a tragedy. Because we would not have something to pull ourselves out of our own quick sands."
E-mail to a friend