ISLAMABAD, Pakistan (CNN) -- Pakistan summoned the U.S. ambassador Wednesday to protest a U.S. airstrike that it says killed 11 of its forces who were cooperating with the U.S.-led war in Afghanistan.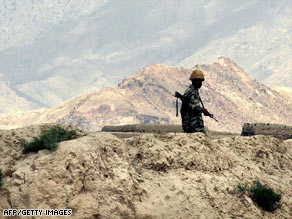 A Pakistani soldier patrols the mountain areas of the Pakistan and Afghanistan border in Mohmand.
Ambassador Anne Patterson met with Pakistani Foreign Secretary Bashir, according to State Department spokesman Gonzalo Gallegos.
"The United States regrets that actions in Mohmand Agency the night of June 10 resulted in the reported casualties among Pakistani forces, who are our partners in the fight against terrorism," the embassy in Islamabad said in a statement after the meeting. "We express our condolences to the families of those who lost their lives."
The U.S. military said it carried out an airstrike and fired against "anti-Afghan forces" shortly after they attacked coalition forces in Afghanistan's Konar province Tuesday. The military statement did not say where the airstrike occurred but stressed that coalition ground forces did not cross into Pakistan.
A U.S. official said Tuesday's airstrike targeted suspected militants who had fled into Pakistan after conducting an ambush on the Afghan side of the border.
The official said Pakistani military officials worked with U.S. forces to track the militants as they fled across the border into Pakistan. He said the mission was permitted under the rules of engagement, which allow "hot pursuit" across the border of suspected militants when locations are verified.
But Pakistan's military -- which described the airstrike as a "completely unprovoked and cowardly act" -- had a much different account of what happened.
The top spokesman for Pakistan army's Gen. Athar Abbas said the airstrike happened after U.S. forces were called in by Afghan troops who had engaged in a border clash with Taliban forces.
The Taliban forces fired on the Afghan troops as they tried to set up a checkpoint in a disputed area along the Afghan-Pakistan border, Abbas said.
The Afghan troops then called for help from the U.S.-led coalition forces, which carried out an airstrike on positions where Pakistani frontier corps forces were stationed, Abbas said.
Don't Miss
Muhammad Amir Rana of the Institute of Peace said NATO troops also came to the area to assist Afghan soldiers.
Abbas said the airstrike killed 11 Pakistani troops, including a high-ranking major, and wounded seven others, he said.
Pakistan's military and Foreign Ministry have issued an official protest with the Tripartite Commission -- a group made up of senior military and diplomatic representatives from Afghanistan, Pakistan and the United States -- condemning the attack, Abbas said.
A Pakistani military statement said the strike "hit at the very basis of cooperation and sacrifice with which Pakistani soldiers are supporting the coalition in war against terror."
According to the U.S. military, the incident started when "anti-Afghan forces" fired on coalition forces in Afghanistan's Konar province during an operation that Pakistan knew about.
An unknown number of "anti-Afghan forces" about 200 meters inside Konar province pummeled the coalition forces with small-arms and rocket-propelled grenade fire, and the coalition forces "returned fire in self defense," the military statement said.
When the "anti-Afghan forces" attacked coalition forces near a checkpoint in Gora Prai, the coalition alerted Pakistan's army, the statement said.
Gora Prai is in the disputed Mohmand Agency near the Afghan border. Mohmand is claimed by both Pakistan and Afghanistan.
An unmanned drone identified anti-Afghan forces "joining the attack against coalition forces," the statement said. Coalition forces opened fire on them, followed by an airstrike, the military said. It did not say where the strike took place, noting that the investigation into the incident is ongoing.
The unnamed U.S. official said it was not clear whether the U.S. aircraft entered Pakistani airspace when they carried out the airstrikes. U.S. and Pakistani military officials tracked the militants as they fled into Pakistan, and their location was verified by a U.S. drone flying overhead, he said.
Two U.S. Air Force F-15E aircraft dropped three 500-pound bombs and a single laser-guided bomb inside Pakistan, he said. Also, he said, a B-1 bomber dropped six 500-pound bombs on the target.
He added that U.S. ground forces inside Afghanistan fired artillery toward the fleeing militants as they fled into Pakistan.
Earlier, a spokesman for the NATO-led International Security Assistance Force in Afghanistan said that ISAF forces were fired on near the border with Pakistan and that they responded.
The U.S. official said initial reports that indicated seven people were killed on the ground, but the U.S. military cannot confirm their identities. He said the investigation will attempt to determine whether Pakistani troops were among those killed either there or at nearby points where border clashes are common.
In recent months, Pakistani officials have blamed U.S-led forces of launching missile strikes into its territory from Afghanistan. One such attack in the tribal region of Bajaur killed 14 people May 14.
The Pakistani army has said that such attacks only make the job of securing the border more difficult.
"It's not fair," Abbas said. "The kind of effects it creates -- it's not only local. It's also within the country. And that is not good for any coalition.
"An act of this kind it certainly creates difficulties for both sides," he said.
Both Pakistan and Afghanistan are key U.S. allies in America's "war on terrorism." Each is battling a common foe: Islamic militants who have launched deadly attacks targeting troops and civilians in both countries.
Pakistan's newly appointed ambassador to the United States, Husain Haqqani, said that despite the "unacceptable" incident, Pakistan will continue to fight extremists within its own borders.

Watch how Pakistan's ambassador reacted to the attack »
"We will continue to cooperate with our partners while trying to get to the bottom of this particular incident and to make sure that no such incidents take place in the future."
He noted that Pakistan has "offered considerable sacrifices," including casualties as a result of the "fog of war," and would like "greater recognition of what we have already done."
"We all need to work together as partners and not accuse each other, blame each other and get upset with each other."
Pakistani officials summoned U.S. ambassador Anne Patterson to their express outrage, U.S. officials said.
U.S. State Department spokesman Gonzalo Gallegos described the airstrike as "regrettable" and said it was "a reminder that better cross-border communications between forces is vital."
"We are sure that military on both sides will look into the matter and review how to prevent recurrence and how to prevent extremists from using this area," he said.
E-mail to a friend

CNN's Reza Sayah, Zein Basravi and Barbara Starr contributed to this report
All About Afghanistan • Pakistan • NATO • Afghanistan War