BEIJING, China (CNN) -- More than 1,000 people who were detained in Tibet for protesting against the Chinese government three months ago remain unaccounted for, a human rights group said Wednesday.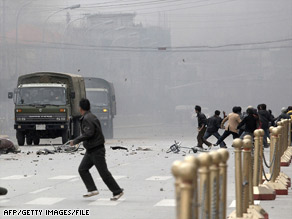 Tibetans stone army vehicles in Lhasa after violent protests broke out in March.
As the Olympic torch relay moves to the Tibet Autonomous Region on Saturday, Amnesty International urged the Chinese government to "shine some light" on the detainees and grant independent observers free access to the region.
"The complete lockdown in Tibet is allowing human rights abuses such as arbitrary detentions, ill treatment and severe censorship to go unreported and unpunished," said Sam Zarifi, Asia-Pacific director at Amnesty.
"Hundreds of people languish in Chinese prisons for peacefully expressing their opinions, in appalling conditions and without their relatives even knowing where they are."
Beijing still does not allow foreign journalists into Tibet, Amnesty said. And Chinese authorities have seized mobile phones and computers from monasteries, nunneries and homes to prevent people from communicating with the outside world, the group said.
"With the torch relay about to enter Tibetan areas, this should be an opportunity to shine some light on the situation there," Zarifi said in a statement.

Follow the Olympic torch relay »
Protests initiated by Buddhist monks began peacefully in the Tibetan capital of Lhasa on March 10. That was the anniversary of a failed 1959 Tibetan uprising against Beijing rule that sent Tibetan spiritual leader, the Dalai Lama, into exile in northern India.
Don't Miss
The protests in March soon turned violent, with demonstrators burning vehicles and shops.
Some protesters advocated independence from China while others demonstrated against the growing influence of ethnic Han Chinese in Tibet and other regions of China with ethnic Tibetan populations.
The subsequent crackdown left 18 civilians and one police officer dead, according to the Chinese government. Tibet's self-proclaimed government-in-exile put the death toll from the protests at 140.
After the riots, protesters supporting the Free Tibet Movement dogged the Olympic torch relay as it made its way around the world.
Beijing blamed the Dalai Lama and his followers for the March riots.
The Dalai Lama has said he does not advocate violence or a separate and independent Tibet. He has said he wants a genuine autonomy that preserves the cultural heritage of Tibet.
E-mail to a friend