From John Vause
CNN
BEIJING, China (CNN) -- Chinese officials have announced an emergency plan to deal with Beijing's persistent pollution problem as athletes flock toward the country for the start of next week's Olympic Games.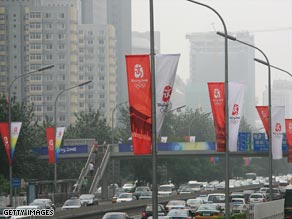 Smog covers Beijing on Thursday July 31, one week before the Olympic Games open in the city.
The strategy, announced Thursday, calls for more factories to close, a complete halt to all construction projects and further reduction of the number of vehicles on the streets at any one time.
The measures would be implemented if forecasters predict stagnant weather conditions 48 hours in advance.
The Chinese Environmental Ministry drafted the plan in conjunction with the cities of Beijing and Tianjin and Hebei province.
"Beijing's air quality is probably not yet up to what the world will be expecting from an Olympic hosting city," said Lo Szeping of Greenpeace.
Doctors say high levels of pollution can hurt performance, especially for endurance athletes like marathon runners, who breathe in more than 10 times the amount of air of an average person.
"Pollution goes down into the lungs. It can cause inflammation, it can cause people who have asthma to get asthma episodes, and so, generally, it is not very helpful to athletes," said Malcolm Green of the British Lung Foundation.
The capital and surrounding areas of northeastern China have the world's worst nitrogen dioxide levels, according to satellite images taken by the European Space Agency in 2005.

Watch images of the city before and after the July 20 plan »
The U.S. Environmental Protection Agency says the chemical can cause eye, nose, and throat irritation, and may cause impaired lung function and increased respiratory infections.
Ethiopian distance runner Haile Gebrselassie, an asthmatic and holder of multiple world records, pulled out of the marathon because of fears for his health.
Jarrod Shoemaker, a U.S. triathlete, says he has already incorporated a mask into his regimen.
"This past year, I wore a mask all the way up to the race and after the race to see if it would work, and I felt perfectly normal, perfectly fine," he said. "So I definitely think it worked and that's my plan again for this year."
A draconian plan announced last week closed down a number of factories and shut down all outdoor construction sites.
Cars can also only be used on certain days, dependent on their license plate -- odd numbers on one day, even numbers the next.
But the plan failed to make a dent, and the air quality worsened, shrouding the capital like a heavy fog, choking people and choking off the sunlight.
The emergency plan would close an additional 105 factories in Beijing and more than 106 others outside the city. The plan would further restrict driving by preventing vehicles from being in operation if the last digit of the license plate number corresponds with the day of the month.
The plan would also institute odd/even driving days for Tianjin city. Odd/even driving days would also be put into effect in Hebei province, but only between the hours of 7 a.m. and 10 p.m.
Wind and rain helped clear some of the gloomy gray haze on Tuesday, and meteorologists predicted that the Games, which begin on August 8 with the Opening Ceremony, would see cooler temperatures and less hazy skies.
A reading on Wednesday found that Beijing's pollution levels dropped by more than half over a 24-hour period to 44 on the index, the lowest reading since the July 20 plan took effect, according to The Associated Press. A reading below 50 is considered "good," AP reported, adding that a cooling wind and some rain helped sweep away pollutants.
"We are still optimistic that during the Olympics we can reduce pollution well below our target thresholds," said Du Shaozhong of China's Environment Protection Bureau.
Authorities, however, wanted to take no chances and announced the emergency plan.
E-mail to a friend

Copyright 2008 CNN. All rights reserved.This material may not be published, broadcast, rewritten, or redistributed. Associated Press contributed to this report.