(CNN) -- Myanmar's military rulers have extended the house arrest of pro-democracy leader Aung San Suu Kyi for another year, a source who spoke to a member of her political party told CNN on Monday.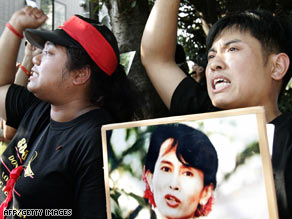 Myanmar protesters in Tokyo mark the 20th anniversary of the 1988 pro-democracy revolution on Friday.
The junta's decision will keep Aung San Suu Kyi under detention for more time than the county's law allows. She has already been under house arrest for four and a half years, and the maximum limit is five years without charges being filed.
The pro-democracy leader met with her attorney Sunday to discuss legal issues, the source told CNN.
Aung San Suu Kyi won the Nobel Peace Prize in 1991. She has become the face of the pro-democracy movement in Myanmar and the focus of a global campaign to free her.
The junta has confined Aung San Suu Kyi in her home for 12 of the last 18 years. Her latest house arrest began in 2003 and has been periodically renewed.
The country last held multiparty elections in 1990, but the regime ignored the results, which showed Aung San Suu Kyi's National League for Democracy party posting a landslide victory.
Last year, the government came under intense international pressure after using force to suppress a pro-democracy movement. In late May, Myanmar state media said voters had overwhelmingly approved a draft constitution that strengthens the junta's rule.
At the time, New York-based Human Rights Watch said it had received indications that the referendum was conducted "in an atmosphere of official coercion and vote tampering."
The military government refused international or independent referendum monitors and UN assistance in conducting the voting, the group said.
And the balloting was conducted amid a humanitarian crisis in the Irrawaddy Delta and other regions devastated when Cyclone Nargis made landfall in Myanmar in early May.
About 130,000 people either died or are missing, according to the United Nations. And more than 2 million have been rendered homeless.
The draft constitution makes way for general elections in 2010, but it has been met with skepticism from pro-democracy opposition leaders. The changes grant 25 percent of parliamentary seats to the military. It also states that the president can cede power to the military during a state of emergency.
E-mail to a friend

All About Myanmar • Aung San Suu Kyi