From Larry Smith
CNN

BEIJING, China (CNN) -- He cuts through the water like he's shredding through the record books at the Summer Olympic Games in Beijing.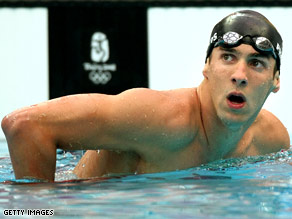 Michael Phelps is one medal away from holding the record for the most gold medals in Olympic history.
U.S. swimmer Michael Phelps won his third gold medal and record-tying ninth of his career Tuesday morning, breaking his own world record in the 200-meter freestyle.
The American won in a time of 1 minute, 42.96 seconds, lowering his old mark of 1:43.86 set at last year's world championships in Australia.
It was expected he would face a strong challenge for the gold from the other finalists, but he led from the start, cruising to the wall nearly 2 seconds ahead of silver medallist Park Tae-hwan of South Korea, who finished in 1:44.85. American Peter Vanderkaay earned the bronze in 1:45.14.
Phelps has nine career gold medals, tying him with four others, including swimmer Mark Spitz and track star Carl Lewis, for the most in Olympics history. He's got five more chances for gold in Beijing; the next one comes Wednesday.

Gallery: See who has won nine gold medals »
And he's just 23. iReport.com: Show your Olympic spirit
Ask Phelps
Need to know more about Phelps?
Send video questions to iReport
and then watch
CNN.com/Live
at 8:30 a.m. ET on August 19 to see if your submission is used.
"We're not even realizing what an incredible athlete he is," said Natalie Coughlin, a world-class Olympic swimmer in her own right. "Obviously, he's amazing, and he breaks all these world records, but I think being a part of that, we almost take it for granted."
In one sense, Phelps is much like the element he works in: calm, cool and clear. It's only when he rips into the water that the waves start.
"I want to do things that no one else in the sport has ever done," he has said.
Phelps has done lots of things: 17 world championships and a couple dozen world records. His nine Olympic gold medals include three so far in Beijing, the last one he received Tuesday in the 200-meter freestyle.
"It will remain to be seen where history ultimately places him, but clearly today he is the best swimmer we've seen," said Bob Bowman, Phelps' coach.
Bowman began coaching Phelps when the swimmer was an 11-year-old who had difficulty focusing outside the pool and a knack for getting into trouble.
"He was very active and never stopped moving, and it was kind of hard to harness that at first," Bowman said. "It's a little bit counterintuitive because, even though he was so rambunctious as a young swimmer, when he raced, he was very focused."
Don't Miss
Swimming thousands of miles in a pool will do that to you.
"I think it was something that made me focus," he said. "I always had dreams of being an Olympian, being a world-record holder, being a professional athlete, being a gold medallist, and I had to focus on those goals to achieve them and I knew that."
The focus came from year after year of workouts in the pool.
He swam nearly four miles in each workout and often practiced twice a day with hardly a day off. Ironically, it is just that kind of intense work that may have cost Phelps much of his childhood. iReport.com: Send Phelps a video question
"I think he missed out on a normal progression of things, but I wouldn't say he's missed anything," Bowman said. "I would say he would tell you what he's gained has been a lot better than what he's missed."
Phelps agrees.
"I would never trade going to the Olympic Games and standing on top of the medal podium or being able to turn professional or travel all over the world, I would never trade any of it in," he said.
Phelps finds himself on the verge of diving into history. He has the opportunity to break the Olympics' most hallowed record and eclipse Mark Spitz's seven gold medals in the 1972 games.
Even if he gets gold in just half of the eight events he has entered, Phelps will hold the record for the most gold medals in Olympic history and could arguably be called the greatest Olympian ever.
"There are a lot of things that people haven't done, and I want to change the sport and be the first person to do new things," Phelps said.
With so much time spent with his head underwater, who can blame him if he likes to stick it in the clouds as well?
E-mail to a friend

All About Olympic Games • Sports • Michael Phelps