BANGKOK, Thailand (CNN) -- Anti-government protesters closed down three airports in Thailand Friday in an effort to force the prime minister to step down, airport officials said.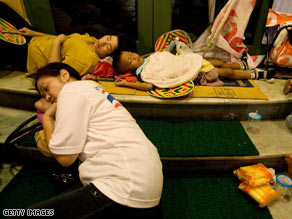 Protesters with the People's Alliance for Democracy sleep outside the goverment complex Friday in Bangkok.
Protesters also regained control of the Government House compound, where demonstrations have been taking place for months, the state-run news agency Thai News Agency (TNA) said.
The chief of the country's armed forces, Supreme Commander Gen. Boonsang Niempradit, said the military was "adhering to a democratic way and peaceful means," because violence won't "solve the problem," TNA reported.
Effects of the protests spread nationwide. Rail services in much of Thailand ground to a halt as union workers went on strike to support anti-government protests in the capital, TNA said.
According to The Associated Press, Thai police have used tear gas to disperse a crowd of protesters besieging the capital's police headquarters.
Associated Press journalists said police threw dozens of canisters of gas at the crowd of at least 2,000 people.
Phuket airport, a gateway for vacationing Westerners, closed down when the protest prevented airplanes from taking off, airport officials said.
In Hat Yai, demonstrators kept departing passengers from reaching the airport, effectively halting air traffic, an official said.
The tarmac was blocked at the Krabi airport, keeping planes from taxing, an airport official said.
Protesters seized several government buildings in Bangkok this week, including the prime minister's office and the state-run television station. Thai judges issued warrants for their arrest, but the prime minister has said authorities will not use force to evict them.
The protesters want Prime Minister Samak Sundaravej to resign.

Watch protesters block the PM's office compound »
On Friday, rail service in southern Thailand was suspended indefinitely, the news agency said, quoting Pichet Suwanchatree, railway union chief at the State Railway of Thailand. The action "forces at least a temporary halt to all trains into Bangkok, effective Friday," the agency said. It warned that some commuters "might be left stranded."
The union called for a nationwide suspension of railway service "to press the government to resign," the news agency said. The action was meant to support protesters with the People's Alliance for Democracy, who are demanding the prime minister's resignation.
Don't Miss
Their protests outside Government House have been going on for months, but the demonstrations grew Tuesday, when hundreds of protesters took to nearby streets and later seized buildings.
The have prevented Sundaravej from getting inside his official residence and prevented other government ministers from attending a weekly Cabinet meeting.
The People's Alliance for Democracy says Samak's administration is a proxy for former Prime Minister Thaksin Shinawatra, who was ousted in a coup in 2006.
The alliance contends Samak was trying to amend the constitution so that Thaksin would not have to face charges -- Thaksin returned to England this month, just as he was to appear in court in a corruption case.
No charges have been filed against Samak.
The People's Alliance for Democracy is well-supported among the middle-class and traditional elite of Bangkok. Yet many outside the city -- especially in northeastern Thailand -- many despise the group.
That leaves a powerful minority in the capital that doesn't agree with the government that a vast majority outside Bangkok have elected, and Thaksin and Samak both remain popular.
Though the protesters want Samak gone, those who spoke with CNN's Dan Rivers seem unsure who they would want to take his place.
"They told me they know they want to get rid of Samak, Thaksin, and all their cronies, but the problem is they don't seem to know what will happen if they do," Rivers said.
"The leader of the PAD, Sondhi Limthongkul, has told me that the entire political system needs to be changed and says that perhaps Thailand isn't ready for full democracy because of the endemic corruption."
E-mail to a friend

-- CNN's Dan Rivers contributed to this report.
All About Thailand • Thaksin Shinawatra