ISLAMABAD, Pakistan (CNN) -- Pakistan's military discovered the location of al Qaeda's second in command, Ayman al-Zawahiri, recently but missed catching him, a top official said Monday night.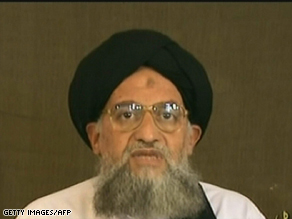 A $25 million reward has been offered for Ayman al-Zawahiri, al Qaeda's second-in-command.
Rahman Malik, the adviser to the prime minister on internal affairs and, effectively, Pakistan's interior minister, told reporters that Pakistani authorities had missed catching al-Zawahiri.
"We had indication Zawahiri and his wife were in the Mohmand Agency," in northwestern Pakistan, said Malik. "We did raids and traces there ... certainly we had traced him in one place, but we missed him. Certainly he is moving in Mohmand Agency and Kunar, mostly in Kunar and Paktika," both in Afghanistan.
Malik went on to say there were currently some four or five dozen al Qaeda leaders in Pakistan.
"There are about 50 to 60 for leaders based in Pakistan. You hardly see them."
E-mail to a friend

All About Al Qaeda • Ayman al-Zawahiri • Afghanistan