ISLAMABAD, Pakistan (CNN) -- Gunmen opened fire Wednesday on a government convoy in what Pakistani officials said was an assassination attempt against Prime Minister Yousaf Raza Gilani, but it is unclear if he was present at the time of the attack.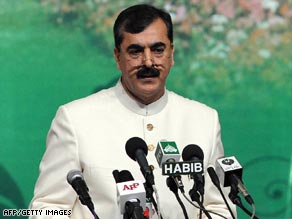 Pakistan's Prime Minister Yousaf Raza Gillani was not in his car when it was fired on.
Pakistan's Information Minister Sherry Rehman told CNN that Gilani was not in the car when his motorcade was struck by bullets in Rawalpindi. But a statement from Gilani's office said "the Prime Minister and all the member(s) of his motorcade remained unharmed."
The prime minister's spokesman, Zahid Bashir, would not say if Gilani was in the car, citing security reasons. He said the issue would be clarified once the investigation was concluded.
The convoy was on its way to an airport to pick up Gilani when it came under fire from a hilltop, the prime minister's brother told GEO-TV.
"He assured me, 'I am absolutely fit. I am going about my routine,'" the brother, Syed Ahmed Gilani, told the television station.
Rawalpindi, about 18 miles (30 kilometers) from the capital city of Islamabad, is a closely guarded city which is home to the country's military headquarters.
Former Prime Minister Benazir Bhutto was assassinated at a political rally in Rawalpindi in December. Gilani served as a government minister under Bhutto's government, and currently represents her Pakistan People's Party (PPP).
Don't Miss
The prime minister had returned to Islamabad from the city of Lahore, GEO-TV reported.
Pakistan's state television station, PTV, showed images of the car's tinted driver's side window with two bullet holes creating a cobweb-like shatter.
GEO-TV showed officers with police tracking dogs combing the hill for the shooter.
The shooting came three days before Pakistani lawmakers are set to elect a new president.

Watch more on the attack »
Last month the ruling coalition forced President Pervez Musharraf to resign.
Former prime minister Nawaz Sharif then withdrew his party, the Pakistan Muslim League-N, from the coalition and vowed to nominate another presidential candidate.
The PPP, the largest group in the coalition, is pushing Asif Zardari, Bhutto's widower, for the presidential position.
E-mail to a friend

CNN's Aliza Kassim contributed to this report.