(CNN) -- North Korea's Kim Jong Il has remained one of the most mysterious leaders in the world.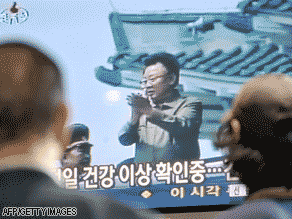 South Koreans watch a TV screen reporting on Kim Jong Il at a rail station in Seoul on Wednesday.
Even as questions about the North Korean leader's health remained unanswered, a complete picture of Kim has remaiined elusive.
Kim has been suffering from serious health problems, and may have had a stroke, a U.S. intelligence official told CNN this week.
The reclusive communist leader has been portrayed variously as an unstable nuclear-armed madman and a cognac-swilling playboy serviced by a team of women known as the "Joy Brigade."
It is unclear where or when he was born, how many times he has been married or even exactly how many children he has.
But despite his reputation as being very odd, some experts maintain Kim is quite rational.
"He's not crazy. He might be somewhat emotional. He might be somewhat eccentric. But crazy? Absolutely not," said Peter Maass from The New York Times Magazine in 2005.
Indeed, Kim's persona seems to have been carefully cultivated to become a leader who has played a poor hand of cards skillfully.
As supreme leader of an impoverished, backward country, he has little to bargain with on the international stage and his reputation may work to his advantage.
Indeed, behind it all he seems to be a shrewd dictator.
"Really, everybody who's met with Kim Jong Il, and there've been quite a few -- South Koreans, Americans, Russians, North Koreans who've since defected -- they all come out saying this man knows what he's doing," said Maass.
Kim inherited the role of absolute ruler from his father Kim Il Sung who died suddenly from a heart attack in 1994.
The elder and venerated founding father dubbed himself "Great Leader" and the younger Kim followed suit. He is known as "Dear Leader."
Kim is believed to have been born in the far eastern region of the Soviet Union in 1941 or 1942. But his birthplace is often listed instead as sacred Mount Paektu, the highest point on the Korean Peninsula.
According to legend, the peak on the northern border with Chinese Manchuria is the site where the Korean nation came into existence 5,000 years ago.
"At the time of his birth there were flashes of lightning and thunder, the iceberg in the pond on Mount Paektu emitted a mysterious sound as it broke, and bright double rainbows rose up," according to the official line.
Kim's younger brother drowned as a child and his mother died when he was 7 years old.
But despite the hardships suffered by most Koreans, Kim was presumably surrounded by luxury and privilege throughout most of his childhood.
Under his newly organized government, Kim's deceased father was deemed "eternal leader" and the presidential post left unclaimed.
Kim Il Sung's unique style of Stalinism, suffused with the Korean "juche" philosophy (roughly translated as "self reliance"), was subordinated to the more militant theme of Kim Jong Il's "Red Banner" policy, introduced in 1996.
Since its inception, North Korea has demonized America as the ultimate threat to its social system and has molded its policies toward the eventual unification of Korea under Pyongyang's control, according to the CIA.
While it boasts a million-strong army, North Korea faces desperate economic conditions and massive international food aid deliveries have allowed the people to escape mass starvation since famine threatened in 1995.
Kim had a reputation as a hard-partying playboy as a young man -- and reportedly still has an eye for the ladies.
"He recruited attractive young girls of junior high school age to take part in 'Joy Brigades,' whose function was to help in relaxation to his senior officials," said Jerrold Post, a former CIA profiler.
Kim is thought to have been married three times -- although it's not clear if all were official -- and he is known to have three sons and at least one daughter.
His taste for the high life extends to a fondness for fast cars and fine dining.
One 2003 account by Russian official Konstantin Pulikovsky, who accompanied Kim on a train journey across Russia, described how live lobsters and roasted donkey -- reportedly the North Korean leader's favorite food -- were flown out to supply the train each day.
Kim is also a huge film buff boasting a collection of as many as 20,000 films.
U.S. officials say he even once went so far as to order the kidnapping of a South Korean actress and her director husband.
While Kim tends to stay behind the scenes, when he does go live on television, it is carefully choreographed official visits to prestigious public works projects or large scale ceremonies, accompanied by an entourage of approving advisors.
E-mail to a friend

CNN's Zain Verjee contributed to this report.
All About North Korea • Korean Politics • World Politics • Kim Jong-il