BANGKOK, Thailand (CNN) -- Thailand's ruling party nominated Samak Sundaravej to return as prime minister Thursday, two days after a court stripped him of the post.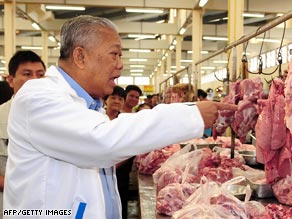 Thai Prime Minister Samak Sundaravej talks with a market vendor on Monday in Udon Thani province.
The People Power Party had said since Tuesday it would seek to restore Samak, who was ordered out after judges ruled that he violated the constitution by appearing as a paid guest on a TV cooking show.
Party leaders must convince five other parties in the coalition to go along with Samak. Some lawmakers have indicated they will propose an alternate candidate.
Parliament is set to vote on Friday.
Meanwhile, Thailand's army chief said Thursday that he backed the creation of a unity government that would include all the country's parties, the Thai News Agency said. The agency is owned by a public company controlled by the government
Gen. Anupong Paochinda also asked that the caretaker government lift a state of emergency that Samak imposed in the capital city of Bangkok on September 2 after clashes between his followers and opponents.
Samak was stripped of his post after Thailand's Constitutional Court unanimously ruled that he violated the country's constitution by taking part in a television cooking show. It ruled that his Cabinet resign.
The court said a provision of the constitution bars ministers from working for private companies.
The 73-year-old Samak appeared on the show "Tasting While Grumbling" for several years before becoming prime minister in February. Since then, he appeared sporadically, serving up personal favorites and dishing on topics that struck his fancy.
Even before the court ruling, Samak's opponents have tried to force his ouster through several means.
He is a facing charges of corruption, is appealing a three-year prison sentence for defaming a deputy governor and is dealing with an election commission decision last week that his party committed electoral fraud in the December elections and should be dissolved.

Watch CNN's Dan Rivers on the latest crisis for Samak »
In addition, thousands of protesters have since August 26 camped outside the Government House, the government's headquarters -- blocking Samak from entering.
The protesters have demanded that Samak step down. They accuse him of being a proxy for his ousted predecessor, Thaksin Shinawatra.
Last week, he declared a state of emergency in Bangkok after clashes between his supporters and anti-government demonstrators wounded 40 and left one person dead.
The People's Alliance for Democracy, which is heading the protests, contends Samak is trying to amend the constitution so Thaksin does not have to face charges. Thaksin, who was ousted in a coup in 2006, returned to England last month just as he was to appear in court in a corruption case.
Thailand's cabinet said last week that it would hold a national referendum to determine whether Samak should stay in office -- but it has not agreed on the wording or when it will take place. The status of those plans was unclear given the court's ruling Tuesday.
E-mail to a friend

CNN's Kocha Olarn contributed to this report.
All About Thailand • Thai Politics • Protests and Demonstrations • Samak Sundaravej • Thaksin Shinawatra