TOKYO, Japan (CNN) -- Taro Aso, an outspoken politician and a former foreign minister, was chosen Monday as the leader of the ruling Liberal Democratic Party.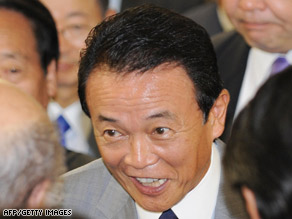 Taro Aso was widely expected to clinch the race in the first round.
Because the party holds a majority in the lower house of Parliament, Aso is all but assured of becoming the country's next prime minister when Parliament votes for one on Wednesday.
Even though a record five candidates ran for the top spot -- including, for the first time, a woman -- the other four candidates united around Aso in the waning days of the campaign as polls showed he would win handily.
If Aso wins the prime minister's slot on Wednesday, he will inherit an office that is expected to tackle several pressing challenges immediately.
Foremost among them is the country's sagging economy.
Aso advocates an increase in public spending and tax cuts to stimulate the economy.
The LDP is also expected to call a snap election as early as next month, in hopes that Aso's name-recognition will help the ruling party retain control of Parliament.
But the tactic can backfire, analysts say. The LDP is in the midst of a political crisis. The last two prime ministers, both from the party, resigned after less than a year in office.
Because of the turmoil within the LDP, the opposition party, the Democratic Party of Japan, senses a shift in political tides. A snap election could see a turn in political power in Parliament, after nearly half a century of continuous control by the LDP.
Aso, a former Olympic sharpshooter, is a Catholic in a country where only 1 percent of the population is of that faith. And he is also known for his verbal gaffes. He recently likened the opposition party to the Nazis.
On September 1, Japanese Prime Minister Yasuo Fukuda announced his resignation. He had been in office less than a year. His predecessor, Shinzo Abe, resigned after just 12 months in the job.
Fukuda's popularity plummeted after he introduced a medical plan that raises premiums for people over age 75 and deducts health-care expenses from pension payments.
The government has said the plan is unavoidable in a country with one of the world's largest aging populations. Opposition parties have criticized it for its effect on one of the most vulnerable segments of society.
In June, Japan's opposition-controlled upper house of parliament approved a motion of no-confidence in Fukuda.
It was the first time a chamber of parliament has passed such a censure in the country's post-war history, but the motion was non-binding and largely symbolic.
No-confidence motions only count in Japan when approved by the lower house, under LDP control.
Still, analysts said the no-confidence motion was a stinging rebuke for the prime minister.
E-mail to a friend

CNN's Kyung Lah contributed to this report.
All About Taro Aso • Yasuo Fukuda • Ichiro Ozawa