By Dean Irvine
For CNN
(CNN) -- Growing up in a tough area of post-war Tokyo, heroes were hard to find.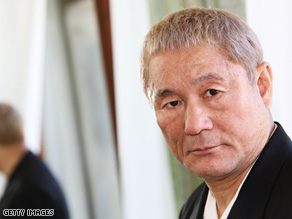 "The West has no equivalent" of Japan's multitalented Takeshi Kitano.
For many they were baseball players, but for filmmaker Takeshi Kitano it was the local yakuza who were simply much cooler.
The darker side of a person's character is far more intriguing for Kitano, whose films regularly feature the taciturn and brooding menace of a gangster or two.
But never too far from the violence or destruction in the films in which he's either acted, directed or produced is a sense of comedy. As a one-time stand-up comic it's something that Kitano has a close connection to.
"For me comedy and violence has a lot in common. Just as you expect, comedy always lurks behind the most unexpected of circumstances," he told CNN.
Show times
ALL TIMES GMT
Wednesday, Oct 22: 13.00
Thursday, Oct 23: 03.00
Saturday, Oct 25: 14.30
Monday, Oct 27: 02.00

Presenting the unexpected is something that Kitano has made a reputation for throughout his career and the myriad projects he's tackled.

He made sure to ditch the comedian image once he started acting in Japanese TV films in the 1980's, preferring to take on more sinister roles.

The films he has produced and directed have also often confounded expectation. His 2002 gangster flick "Brother" was followed by the romantic whimsy of "Dolls" in 2002.

And within his films, he's happy to mix up the fantasy and reality of themes and scenes, such as the comedic musical twist that came at the end of his 2003 film "Zatoichi" about a blind assassin.

As an actor he's listed as Beat Takeshi; in the films he directs and produces he's Takeshi Kitano. Add to the stage name his feted work as a poet, writer and painter and the jigsaw puzzle of Kitano the artist becomes complete, although the full picture perhaps no clearer.

While something in his personality suggests a willful urge to defy classification, he gives a more modest assessment of why he's often touted as something of a renaissance man.

"I do all these various activities like painting and writing, comedy and films probably because not that I'm good at everything but because I'm not good at any of these things," he said.

"I always come to conclusions very fast. Well, that is one way of thinking, and the other way would be that I lack the necessary perseverance to stick to one thing that really fits me. I don't know if it's a good thing or bad thing."
Other guests on Japan Now
His life changed in 1994 after a horrific motorcycle accident.
Doctors first said that he would not be able to make films again, but he recovered and attained international recognition with "Hana-bi" that won him the Golden Lion at the 1997 Venice Film Festival.
"[After the accident] I got to certain plateau of state of mind, matured, I just sort of started giving up on things. Giving up on a good sense, like attachment to live a long life or attachment to successful career, or attachment to critical acclaim, those things I started to care less about," he said.
Yet even before the accident, Kitano said he had long had a growing ambivalence to the success, fame and fortune that had come his way.
"I don't really expect much from my life. So when I heard my films are premiering in film festival circuits I was glad of course but I thought it was lucky accident. "
"I was making a huge amount of money and obscene amount of popularity in my country. It was really an ambiguous time for me because everything I did was success, but everything I did was kind of unsatisfactory for me. So I think that kind of got me into reckless behavior of getting into motorcycle and getting drunk."
As for the commercial success of his latest film "Achilles and the Tortoise" he simply couldn't care less: "I don't want to be rude to my producer and all the other staff that work with me and work for me so I act like I care but actually I don't," he told CNN.
Continuing to create in whatever medium seems certain, as is the interest from critics and his fans as to what his next move might be. And what might be his next project?
"To be a really obscene religious cult leader," he joked.
Despite the laughter, with his reputation, popularity and charisma, maybe it shouldn't be ruled out.
E-mail to a friend

All About Film Festivals