By Emmy Dexel
For CNN

LONDON, England (CNN) -- With all eyes on turbulent global financial markets, Britain's Prince Charles has issued a stark warning about climate change.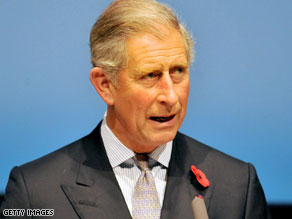 Prince Charles, speaking in Tokyo, warns of the 'climate crunch.'
The heir to the British throne delivered a speech in Tokyo urging people to tackle the "climate crunch" ahead of the "credit crunch."
The prince arrived in the Japanese capital on Monday evening after the Nikkei share index slumped to its lowest for 26 years.
In comments published on his official Web site, he said: "We take our eye off the 'climate crunch' at our peril. While we hope and pray that the underlying strengths of the global economy will -- once again -- enable it to bounce back, the effects of climate change will be far from temporary and will, indeed, be irreversible."
"It seems to me that the current international financial difficulties serve only to reinforce the message that positive action to tackle climate change could in fact be a stimulant to economic activity," he added.
He described climate change as "the biggest challenge our planet has ever seen -- literally a battle for survival."
The prince made his plea on a visit with his wife Camilla to mark the 150th anniversary of diplomatic relations between Japan and Britain.
Since the early 1980s, the prince has taken a keen interest in environmental issues and become increasingly focused on organic farming on his Highgrove estate.
Earlier this year he spoke out against companies developing genetically modified crops, warning that they represent the biggest environmental disaster ever.
Prince Charles promotes environmentally sensitive thinking and said that one of the distressing conclusions of recent predictions by U.N. scientists is that temperatures could rise by more than six degrees Celsius by 2100 if no action is taken.
He also pointed out how pictures taken by the Japanese Space Agency had recorded the damage to rainforests around the world -- with 130,000 square kilometers lost each year.
"The scale of the challenge is clear -- nothing less than an urgent, full-scale transformation to a low-carbon society is needed," Charles said. "For developed countries like the UK and Japan, it means a cut in current carbon emissions of 70 percent to 80 percent by 2050."
Prince Charles and Camilla are set to leave Japan on Friday morning for Brunei. He will end the tour in Indonesia but his wife, who reportedly finds hot climates difficult to handle, is expected to fly home from Brunei on Saturday in order to prepare for her husband's 60th birthday celebrations.
E-mail to a friend