By Matt Ford
For CNN
(CNN) -- The automobile is synonymous with the personal freedom and high standard of living of the consumer lifestyle. Greening the motor industry is about proving that that lifestyle is compatible with the fight against climate change.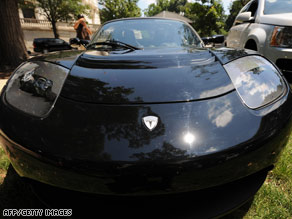 See yourself in one of these? Start saving now if you want this high end electric sports car from Tesla.
But is that really possible?
Certainly the industry is falling over itself to try and prove its green credentials.
At the British International Motor Show earlier this year a host of new low-emission vehicles were on show. There was even a green "village" populated with electric cars and hybrid vehicles, some with dashboards made from cork (the only wood you can harvest without killing the tree).
One Lotus was even partially made from hemp, relied on solar power for its electrics and was fitted with sisal carpets.
All of which was a far cry from the usual displays of fast cars promoted by beaming models in an unabashed display of masculine values where "green" was more likely to be used as an insult.
Of course beyond all the conspicuous eco-options, the muscle cars were still there. For every green vehicle there were many others -- often produced by the same manufacturers -- built for speed, comfort and very little else.
So is the motor industry just doing a bit of sharp marketing, and carrying on business-as-usual behind the scenes?
Long way to go
Environmentalists argue that the car industry is a long way from meeting overall targets for reducing CO2 emissions, and call for tougher legislation.
According to the pan-European environmental lobby group Transport and Environment, top manufacturers need to make further cuts of 17 percent to meet 2012 targets of 130 grams of carbon per kilometer. T&E are calling for European Union action to force the companies to comply.
The industry argues for self-regulation and says it is doing all it can. There are signs of change: BMW has won praise for cutting average emissions by more than 7 percent in 2007.
But they're still not moving fast enough for campaigners.
"Just as Pinocchio couldn't be a real boy till he stopped telling lies, the car makers will never be green until they stop showing off a green image at car shows while filling the roads with ever heavier and more powerful gas guzzlers," says Helen Perivier, Greenpeace International campaigner.
Greenpeace argues that the motor industry has a poor record of self-regulation, citing its failure to meet voluntary European standards agreed in 1996.
The pressure group also say manufacturers have increased their lobbying campaign to water down proposals for the legally-binding standards that the European Union has had on the table since 2006 in response to manufacturers' failure to meet the earlier voluntary targets.
Financial crisis a boon for electric cars?
But despite these criticisms there are signs that the motor industry is changing faster than ever before -- and the credit crunch might be driving that forward.
Car sales have fallen dramatically in recent months as a combination of high oil prices and the general economic downturn make the purchase of a new gas guzzler much less attractive.
Car sales plunged 26 percent overall in the United States in September, led by a massive 34 percent fall at Ford. They were down 22 percent in the UK, according to figures from the Society of Motor Manufacturers and Traders.
One way to get customers back into the showroom is the promise of a greener vehicle that will make them feel good about themselves.
In addition car manufacturers know they have to change to stay competitive in an era of yo-yoing fuel prices.
At the Paris Auto Show this autumn there were 19 plug-in mass market electric models were on show from manufacturers like Toyota, Dodge and Renault.
The vehicles are vastly more efficient and user-friendly than they would have been even a few years ago. Most would take about three hours to charge and run for 100 miles (161 kilometers) before switching over to regular gas.
For those who love speed, there's the Tesla Roadster, an electric car that does 0-60 in 3.9 seconds and can go for 220 miles on a single charge.
Cars such as these have a real chance of grabbing consumer's attention, and even in more difficult times, of offering a pain-free transition to low carbon driving.
Plus, the U.S. presidential elections have seen the contenders vying to offer support to those choosing to go green. Barack Obama has said, if elected, he would help put 1 million electric cars on the roads of America and give everyone who buys one a $7,000 tax credit as a carrot. John McCain has offered a $5,000 credit to those who purchase an electric vehicle -- and for the industry he is pledging a $300 million prize for whoever comes up with a real electric alternative to the internal combustion engine.
Although the reality of a truly zero emission vehicle is still some way off yet, manufacturers are moving forward, and behind the scenes there are signs that the industry is getting closer, inch-by-inch, through a series of small innovations that together could make all the difference.
The infrastructure needed to keep electric cars charged and on the roads will require substantial investment -- and the lack of a convenient network of charging points remains a barrier to the take-up of the technology.
However, smaller, lighter, faster charging batteries and home charging kits are already making the day that investment will become profitable ever closer.
But here's the rub.
A recent World Wildlife Fund report warned that climate change is happening faster than previously predicted; in the past 15 months the Arctic Ocean has in some areas lost sea ice 30 years ahead of current Intergovernmental Panel on Climate Change predictions.
So the question remains: will "green" vehicles come soon enough?
E-mail to a friend