(CNN) -- Pakistan's president Tuesday pointed to a weekend raid in Kashmir as proof of his government's commitment against terrorism, urging India to "pause and take a breath" before blaming Pakistan for the November massacre in Mumbai.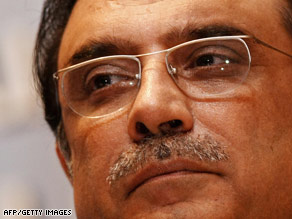 Pakistani President Asif Ali Zardari addressed India in an opinion piece in The New York Times.
In a sometimes deeply personal opinion piece in The New York Times, President Asif Ali Zardari wrote that his government, which took office earlier this year, was also the target of Islamic extremists -- "and we continue to be their victims."
But Sunday's raid on a camp used by the group India blames for the Mumbai attacks shows Pakistan is willing to crack down on "non-state actors" operating on its territory, he wrote.
"We understand the domestic political considerations in India in the aftermath of Mumbai," he wrote. "Nevertheless, accusations of complicity on Pakistan's part only complicate the already complex situation."
Pakistani security forces raided a camp near Muzaffarabad, the capital of Pakistani-controlled Kashmir, on Sunday and arrested 15 people, a Pakistani security official told CNN.
It was the first sign of government action against Lashkar-e-Tayyiba (LeT) -- the Islamic militant group India says was behind the killings of more than 160 people in Mumbai -- since the attacks.

Watch what's known about the raid »
Don't Miss
"As was demonstrated in Sunday's raids, which resulted in the arrest of militants, Pakistan will take action against the non-state actors found within our territory, treating them as criminals, terrorists and murderers," Zardari wrote. "Not only are the terrorists not linked to the government of Pakistan in any way, we are their targets and we continue to be their victims."
Zardari's wife, former Prime Minister Benazir Bhutto, was killed in December 2007 in the second of two attempts on her life after she returned from exile that October. The president invoked her death to express sympathy for India's victims, writing, "I feel this pain every time I look into the eyes of my children."
"The Mumbai attacks were directed not only at India, but also at Pakistan's new democratic government and the peace process with India that we have initiated," he wrote. "Supporters of authoritarianism in Pakistan and non-state actors with a vested interest in perpetuating conflict do not want change in Pakistan to take root."
Zardari wrote that militants in his country have been strengthened by the United States and its allies which empowered "the most fanatic extremists" to fight Soviet forces in Afghanistan during the Cold War.
The Pakistani president never mentioned his country's past support of LeT, which Pakistan's intelligence agency, the ISI, helped create to fight against Indian rule in Kashmir in the 1990s.
LeT has denied any role in the Mumbai attacks, and Pakistan has rejected accusations that the government supports terrorist groups.
Under pressure from the U.S., Pakistan banned LeT after a 2001 attack on the Indian parliament that brought the nuclear-armed rivals to the brink of war.
Citing American intelligence and counterterrorism officials, The New York Times reported on Monday that LeT continues to receive assistance from the ISI which has allowed it to "quietly gain strength in recent years."
Zardari's government -- which took power earlier this year -- has attempted to reform the ISI, including appointing a new chief in September.
A key component to Pakistan's fight against terrorism is a strong economy and government, and the world "must act" to ensure that, Zardari wrote.
Pakistani was recently approved for a $7.6 billion loan from the International Monetary Fund to help it avoid an economic collapse.
Zardari warned that the terrorist groups are "trying to provoke" a war between India and Pakistan, something that his country is committed to avoiding through diplomacy.
"In the current environment, reconciliation and rapprochement is the best revenge against the dark forces that are trying to provoke a confrontation between Pakistan and India, and ultimately a clash of civilizations," the president said.
E-mail to a friend

All About Pakistan • Benazir Bhutto • India • Asif Ali Zardari