(CNN) -- An Association of Southeast Asian Nations summit will take place late February in Thailand, its government announced Tuesday, a day after Abhisit Vejjajiva was picked as Thai prime minister and ASEAN's charter came into force.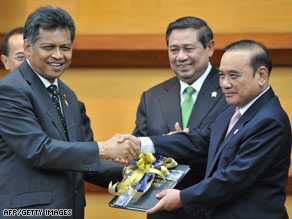 ASEAN welcomed its charter in a ceremony Monday in Jakarta, Indonesia.
The summit had been scheduled to take place this week in the northern city of Chiang Mai but was postponed because protests by opposition parties shut down Bangkok's airports.
On Monday ASEAN foreign ministers meeting in Jakarta, Indonesia, marked the enactment of a new charter setting free trade and political liberalization standards for the 10 members.
"From now on, ASEAN shall operate under the new legal framework laid down in the ASEAN Charter," ASEAN Secretary-General Surin Pitsuwan said.
The charter sets a 2015 goal for establishing a free-trade zone among its members and lays out a set of political, economic and "people-oriented" commitments -- including respect for democratic principles and human rights, a "nuclear weapon-free Southeast Asia" and progress toward regional economic integration.
In August, ASEAN ministers agreed to expand those integration efforts, particularly with the slowdown in global demand in sight.
"What they're trying to do is take just a first step towards building that kind of community that's based on rules that has a more common set of understanding of how these nations should behave," Asia observer Jamie Metzl told CNN.

Watch Metzl discuss the significance of the charter »
Don't Miss
However, he said, the treaty has only weak tools to address members that violate those standards -- a situation that is likely to arise in the case of Myanmar, formerly Burma, where the ruling military junta violently suppressed protests led by Buddhist monks in 2007.
In addition to Thailand, Indonesia and Myanmar, ASEAN's members include Singapore, Brunei, Malaysia, Laos, Vietnam, Cambodia and the Philippines.
In May, Myanmar agreed to allow ASEAN members to send medical personnel and an assessment team following the devastation of Cyclone Nargis. This summer, ASEAN foreign ministers met in Singapore to seek a resolution to the military standoff between Cambodia and Thailand.
E-mail to a friend

CNN's Elizabeth Yuan contributed to this report.
All About Association of Southeast Asian Nations