BEIJING, China (CNN) -- China plans to send a fleet of ships to help patrol the pirate-infested waters off the Horn of Africa, Chinese media reported Thursday.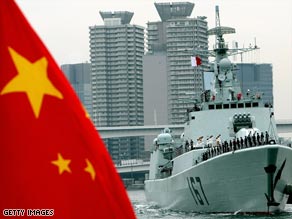 China has reportedly been working to rapidly modernize its fleet.
The move would be rare for Beijing, which has not sent military ships far from its shores in centuries.
But China, along with other countries, has seen its commercial ships repeatedly falling prey to pirate attacks that have ramped up dramatically in recent months.
The news comes a day after the U.N. Security Council passed a resolution allowing members of an international coalition force to pursue pirates onto land. China is the only permanent member of the council that has yet to commit forces to the effort.
Thursday's media reports offered few details about the size or nature of the fleet that China would deploy. They said the fleet would leave the South China Sea for an operation lasting three months.

Watch how the initiative will be a test for China's navy »
Chinese Vice Foreign Minister He Yafei said Tuesday that Beijing "is seriously considering sending naval ships to the Gulf of Aden and waters off the Somali coast for escorting operations in the near future," according to state news agency, Xinhua.
Don't Miss
Nearly 100 vessels have come under pirate attack in the waters off of Somalia this year, according to the International Maritime Bureau, and 40 of them have been successfully hijacked.
On Wednesday, the crew of a Chinese ship in the Gulf of Aden fought with pirates for four hours -- using fire hydrants and firebombs to keep them at bay -- until coalition helicopters and warships helped repel the attackers, Xinhua reported.
State media has also reported that a Chinese fishing vessel and its crew have been held by pirates in the region since last month.
China's navy is considered a "brown-water fleet" -- designed to operate almost exclusively along its coast. But the country has reportedly been working to rapidly modernize its fleet for the past several years.
E-mail to a friend

CNN's John Vause contributed to this report
All About Pirates • Somalia • Gulf of Aden • Somali Pirates