KABUL, Afghanistan (CNN) -- Pakistan's president will use his first visit to Afghanistan to discuss how the countries can unite to defeat terrorists.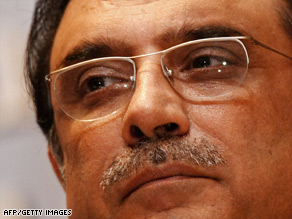 Pakistani President Asif Ali Zardari is making his first visit to Afghanistan.
Pakistani President Asif Ali Zardari travels to the Afghan capital, Kabul, Friday to meet Hamid Karzai and other high-ranking government officials.
The visit comes amid ongoing warfare and tension along the Afghan-Pakistan border.
Some of the Taliban militants conducting attacks in Afghanistan have been based in Pakistan's North West Frontier Province and nearby tribal regions.
The group's resurgence has prompted U.S. commanders and the incoming Barack Obama administration to put more of a focus on confronting militants along the volatile border.
In the past,Afghan and Pakistani leaders have blamed the other for the security problems in the region.
Zardari will be accompanied by the governor of North-West Frontier Province, as well as his foreign minister and adviser on internal affairs.
The two presidents also will discuss expansion of bilateral relations and trade, and they plan to hold a joint press conference.
The two leaders have met before, and Karzai visited Pakistan in September to attend Zardari's swearing-in ceremony.
E-mail to a friend