(CNN) -- As head of the Intergovernmental Panel on Climate Change (IPCC), Dr. Rajendra Pachauri is at the forefront of global efforts to combat climate change.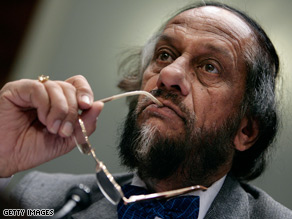 The IPCC was the joint winner -- along with Al Gore -- of the 2007 Nobel Peace Prize.
Pachauri -- an economist and environmental scientist -- has been Chairman of the IPCC since 2002.
Dr. Pachauri began his career with Diesel Locomotive Works in Varanasi, India, before attending North Carolina State University where he gained a clutch of qualifications including PhDs in Industrial Engineering and Economics. In a long and distinguished career he has served on the boards of many institutions and committees.
Since 1981, he has been Director General of TERI (The Energy and Resources Institute) -- an Indian based non-profit scientific and policy research organization. In 1999, Dr. Pachauri was appointed to the board of both the Indian Oil Corporation Limited and the Institute for Global Environmental Strategies (IGES) in Japan. He served on both for three years.
In 2001 Dr. Pachauri was awarded the Padma Bhushan -- one of India's highest civilian awards -- for his environmental work. Read Dr. Pachauri's blog.
E-mail to a friend