LONDON, England (CNN) -- A leading Christian church has been plunged into a new row about gay clergy after a marriage-style service between two male priests at a London church, local media report.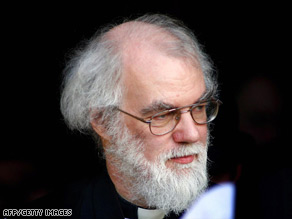 Conservative Anglicans have called on the Archbishop of Canterbury to take action over the gay clergy 'wedding.'
Clergymen Peter Cowell and David Lord said wedding vows and swapped rings in a public service at the church of St Bartholomew the Great in London's financial district on May 31, UK newspaper The Sunday Telegraph has reported.
The incident threatens to fuel the global divisions that already exist in the Anglican church between conservative clergy who oppose gay priests and more liberal-minded members.
The Archbishop of Uganda, Henry Orombi, is reported by the newspaper to have called on the Archbishop of Canterbury Rowan Williams to take action or else see the church "disintegrate."
"What really shocks me is that this is happening in the Church of England that first brought the Gospel to us," the newspaper reported the bishop as saying.
"The leadership tried to deny that this would happen, but now the truth is out. Our respect for the Church of England will erode unless we see a return to traditional teaching."
Queen Elizabeth is the head of the Church of England, from which other forms of Anglicanism have historically evolved, although her role is ceremonial.
Richard Chartres, the Bishop of London has now ordered a probe into the incident, the UK's Press Association has reported.
In a statement the bishop said that the diocese of London and the Church of England were not allowed to stage public blessings for civil partnerships.
But in comments carried by the newspaper clergyman Martin Dudley defended taking the ceremony at the church, which has featured in movies including "Four Weddings and a Funeral", "Shakespeare in Love" and "Elizabeth: The Golden Age," according to its Web site.
"I was asked by a friend and colleague to bless their civil Partnership," Dudley is reported to have said. "I said 'of course I will'.
"Peter is a dear friend and I have gay friends and one respects them for who they are. It seemed perfectly reasonable.
"I certainly didn't do it to defy my bishop or to make a statement, I did it as a matter of pastoral care for someone for whom I have a very high regard," he continued in his comments to the newspaper.
The row also comes ahead of two key meetings for the worldwide Anglican community.
The Global Anglican Future Conference (Gafcon), which is attended by more conservative bishops, is scheduled to meet this week in Jerusalem. It states on its Web site that its aims include "to prepare for an Anglican future in which the Gospel is uncompromised and Christ-centered mission is a top priority."
The Lambeth Conference of Anglican bishops, which meets every 10 years, is scheduled to convene in Canterbury, south-eastern England next month.
However African media such as Kenya's Sunday Nation newspaper, state that several African bishops are to boycott the event.
E-mail to a friend