(CNN) -- The Vatican said Tuesday it regrets the decision by the Church of England's governing body to allow the ordination of women as bishops.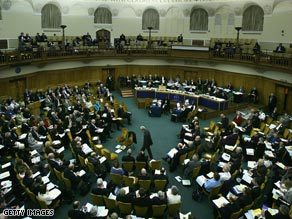 General view of the Synod Assembly Chamber during the General Synod Session.
The move by the Anglican Church's General Synod "is a rift to the apostolic tradition" of ordaining only men as bishops, the Vatican said in a statement, and is another obstacle to reconciliation between Anglicans and Roman Catholics.
"This decision will have consequences on the dialogue which had brought good fruits," the Vatican statement said.
The General Synod passed a resolution Monday night that allows women to become bishops, acting over the objections of traditionalists who argued that Jesus only wanted men in leadership positions.
Some traditionalists have threatened to abandon the Anglican Church for the Roman Catholic Church if women become bishops. Several hundred Anglican priests made that move when women were first ordained 16 years ago.
The synod narrowly rejected a proposal for "super bishops," which would have allowed parishes opposed to female bishops to opt out. Opponents argued the plan would be insulting to female bishops.
The Church of England has about 114 bishops. They supervise parishes in Britain.
The final hurdle for the consecration of female bishops is expected in February with a vote on a "code of practice" intended to protect people who as "a matter of theological conviction will not be able to receive the ministry of women as bishops or priests."
The first consecration of a female bishop could happen in 2015.
The theological debate over female bishops has centered on the question "What would Jesus do?"
The traditionalists argued that bishops must be men, as were Jesus and his apostles.
Retired Canon Alan Duke, a longtime supporter of women in church leadership posts, said those arguments "simply do not stack up."
Duke said that while Jesus named no female disciples, he used and valued woman in radical and different ways for his time.
"He was hardly going to choose women and send them into a situation where they might have been in grave risk," Duke said.
Christina Rees, with the pro-women lobby Women and the Church, described what was at stake as "an acceptance by the Church of England of women on equal terms as men in the ordained ministries."
David Holding, a traditionalist church member, said he does not object to female bishops, but "there must be a proper provision made for those who can't go along with it."
The lack of a provision to allow traditionalists to choose to be under a "super bishop" instead of a woman raises concern that a schism could develop in the Church of England.
Duke described "an awful lot of bluster" but doubted there "will be a mass exodus."
E-mail to a friend