(CNN) -- The European Union will not draft a new treaty after Irish voters rejected the existing one last month, French President Nicolas Sarkozy said Wednesday.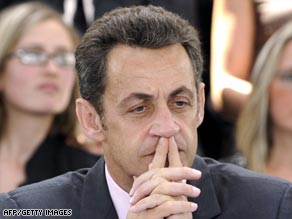 Nicolas Sarkozy says EU issues should be up to national lawmakers, not voters.
Instead, Sarkozy -- whose country just took over the rotating six-month EU presidency -- said he plans to visit Ireland this month to discuss a solution.
"The French presidency will try to propose a method and, we hope, a solution, that we hope the Irish government will agree on either in October or December," Sarkozy told the European Parliament in Strasbourg, France.
He said the European Union "cannot push our Irish friends" into accepting the treaty, but that a resolution must be found before EU parliamentary elections next year.
But, he said, "There won't be a new treaty."
The treaty is meant to replace the EU constitution, which voters in two countries rejected in 2005. It would streamline the workings of the EU, creating an EU president and foreign minister and introducing rotating representatives for member countries in the EU Commission, the union's executive branch.
The Lisbon Treaty, as it is formally known, would also give national parliaments veto power over some proposed changes to EU policy and would change the voting weights of countries on certain issues.
After French and Dutch voters rejected the constitution in public referenda, most EU countries stopped leaving such matters to their voters and decided instead to push it through their national parliaments.
Ireland, however, has a constitution requiring a public referendum on such issues. Irish voters rejected the Lisbon Treaty when they voted on it June 12.
That rejection posed a huge quandary for the European Union, which -- because it has no constitution -- still operates under the Treaty of Nice, which European leaders agreed to in 2000. That treaty is considered outdated, in large part because only there were only 15 EU members back then, compared to the current 27.
Sarkozy emphasized Thursday that EU issues should be up to national lawmakers, not voters. He also said the European Union should accept no new members until it has a constitution.
"If Europe wants to enlarge -- and it must -- then it must do so with the right institutions," he said.
And he also continued to push for a European defense policy, saying it could work alongside NATO in protecting the continent.
"How can we be a political power if Europe is not capable of defending itself?" Sarkozy said. "Europe needs to have the strength in defense to make itself respected."
Sarkozy had been expected to push for a greater European defense dimension during France's EU presidency.
Some nations, particularly the United States, have been suspicious of a greater EU defense policy, seeing it as an attempt to undermine NATO.
But Sarkozy said: "We don't want to get rid of NATO -- that's an alliance with the Americans. But on the other side, there should be an autonomous European defense. These are not mutually exclusive."
Last month, Sarkozy announced that France would be rejoining NATO's military command more than 40 years after it left amid friction with the United States, although it has since contributed troops to NATO missions.
The move was seen as an attempt by Sarkozy to help the United States warm to the idea of an EU defense policy.
E-mail to a friend

All About European Union • Ireland • Angela Merkel • NATO