ROME, Italy (CNN) -- Italian prosecutors are requesting indictments against three suspects in connection with the November killing of a 20-year-old British student, one of the suspect's lawyers told CNN.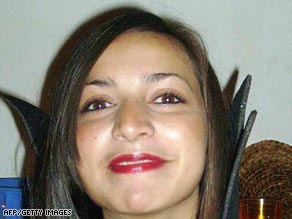 Briton Meredith Kercher was found dead in her Perugia, Italy, flat last November.
Luca Maori, the defense lawyer for Raffaele Sollecito, said prosecutors are requesting that his client, an Italian -- as well as American Amanda Knox and Ivory Coast native Rudy Guede -- be tried for the murder of Meredith Kercher.
Judges will decide whether there is enough evidence to take the case against the three to trial after the summer recess, which ends in mid-September.
Knox and Sollecito have been jailed since November in connection with the young woman's death on November 2 in the villa apartment she shared with Knox in Perugia.
Guede was arrested in November in Germany and has been jailed in Italy since he was extradited there in December.
Kercher, an exchange student at Perugia's university, was found dead with a stab wound to her neck.
Prosecutors allege that Guede committed sexual violence on her, with the help of Knox and Sollecito.

Watch prosecutors' requesting indictments against the suspects »
The prosecutors say the three then strangled and stabbed Kercher, and took 300 euros, two credit cards and two cell phones in an attempt to make the scene appear as a robbery.
All deny the charges.
Guede admits he was in the apartment on the day Kercher was killed, but said an unknown assailant killed her while he was out of the room.
Police, however, have said evidence ties the two suspects to the crime scene. They say a bloody footprint left by a Nike shoe next to Kercher's body came from Sollecito -- who at the time was Knox's boyfriend.
Authorities have also said they found traces of blood belonging to both Knox and Kercher mixed together in a bathroom adjacent to the room where Kercher died.
Sollecito's attorney told CNN that his client was not in the apartment.
"'We will prove that my client was not in the house at the time of the crime, but in his flat watching a movie on a computer, together with Amanda Knox," Maori said.
Knox's lawyers had no comment.
E-mail to a friend