From CNN Madrid Bureau Chief Al Goodman
MADRID, Spain (CNN) -- Spanish Civil Guards Tuesday arrested nine suspected members of the Basque separatist group ETA, who are thought to be behind the May bombing that killed a Civil Guard, Interior Minister Alfredo Perez Rubalcaba said.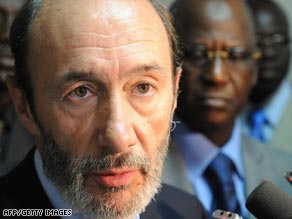 Spanish Interior Minister Alfredo Perez Rubalcaba said the group arrested were ETA's most active cell.
Elite agents used explosives to blast open the apartment door of the suspected cell leader, longtime fugitive Arkaitz Goikoetxea, in the northern city of Bilbao, a judicial source told CNN.
Also arrested were eight other suspects who allegedly worked secretly for ETA while maintaining the appearance of normal lives, Rubalcaba said at a nationally-televised news conference in Madrid.
ETA is blamed for more than 800 deaths in its long fight for Basque independence from Spain and is listed as a terrorist group by the European Union and the United States.
The group arrested Tuesday is thought to be the most active cell since ETA officially ended its unilateral cease-fire last year, Rubalcaba said.
"We can't guarantee it's the only active ETA cell. But it was the most active, and the most wanted by police, since the cease-fire," Rubalcaba said.
The arrests came barely two days after authorities said ETA placed four bombs in coastal Cantabria province, part of ETA's almost yearly effort to disrupt Spain's lucrative summer tourist trade. The blasts on beaches and a golf course caused one minor injury and little damage.
On May 14, a car bomb explosion at a Civil Guard barracks in Alava province killed a paramilitary Civil Guard -- the most recent ETA fatality -- and wounded four others.
Days later, police arrested ETA's suspected leader, Francisco Javier Lopez Pena, and five other suspects, in southern France, ETA's traditional rear guard base just across the border from Spain.
Tuesday's arrests were the biggest blow against ETA since. Madrid anti-terrorism investigating magistrate Baltasar Garzon went to Bilbao, the Basque region's largest city, to personally direct the pre-dawn raids.
Other arrests occurred near Bilbao, but also hundreds of miles to the west, in Pontevedra, in the Galicia region, and far to Spain's south, in Malaga, in the Andalusia region, Rubalcaba said. He added there was no immediate evidence to suggest ETA had established bases in those regions, but it was under investigation.
Suspected cell leader Goikoetxea has been on the run for five years, Spanish media reports said.
Rubalcaba said authorities link Goikoetxea to attacks against three Civil Guard barracks, including the one in May, and an attack against a Basque regional police station.
In March 2006, ETA declared a "permanent" unilateral cease-fire, raising hopes for an end to nearly 40 years of ETA violence. But an ETA bomb at Madrid's airport in December 2006 killed two men and caused heavy damage, and the Socialist government immediately ended the fledgling peace process.
Yet ETA did not officially end its cease-fire until June 2007. Authorities suspect that the cell arrested Tuesday was behind many of the attacks since then.
There are about 500 ETA convicts or suspects in Spanish jails and more than 100 more in French jails, authorities said.
E-mail to a friend