By Saeed Ahmed and Melissa Gray
CNN

(CNN) -- The sound started as a distant rumble and built to a deafening roar. Then George Lomsadze felt his apartment building shake.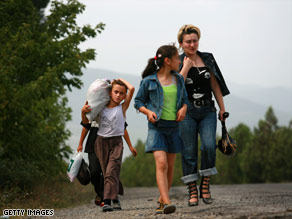 A Georgian family walks Tuesday from the bombed city of Gori on the road toward the capital, Tbilisi.
A Russian plane was bombing an airfield near his home in Tbilisi, Georgia. That left little doubt that a conflict that started over a breakaway province only a two-hour drive away had spread to the capital.
"We didn't know what to do. We're not prepared for war," Lomsadze said Tuesday. "What do you do when the biggest country in the world wants to pound your city?"
The five days of fighting that ravaged Georgia cast thousands of people into a precarious existence. Unaccustomed to soldiers shooting and airplanes bombing, civilians in Georgia suddenly found themselves trying to stay safe in the face of a major Russian military operation.

Watch Russian tanks roll through Georgia »
Reliable estimates of the number of dead and wounded were hard to come by, but aid workers say at least 100,000 civilians fled their homes before Russia's president ordered a halt to the military operation Tuesday.
Civilians endured the violence as best they could.
Lomsadze, a freelance journalist, said he sat with his friends in his apartment on the outskirts of Tbilisi, playing cards halfheartedly and cracking jokes that fell flat -- anything to keep from directly addressing their anxiety.
Don't Miss
"When you're very tense, you try to hide it behind laughter," he said. "So we sat there saying there's no point living in fear, when that's what we were feeling."
Several residents said they worried that Russian forces would attack Tbilisi.
"We are afraid it will be attacked, but ... we don't have another place to run," said Lana, who asked that her last name not be used because of security concerns. "We stay, we are doing our business anyway, we are trying to be calm, and we are continuing as much as possible to do our business."
Some foreign residents of Tbilisi had a better chance of fleeing the fighting. Countries such as Great Britain and the United States announced plans to evacuate some citizens from the capital.

Learn what the fighting is about »
Lisa Kaestner, an American in Tbilisi, said some of her friends fled to Armenia. She and her family stayed, but they moved from downtown Tbilisi to stay with friends on the city's outskirts.
iReport.com: Share your story of how the crisis is affecting you
Kaestner said the family is trying to make life seem as normal as possible for their children.
"We're trying to keep them occupied and even went out to the park," she said. "The oldest, the 8-year-old, is the only one who has some understanding of what's actually going on."
Many know Georgian soldiers who have been wounded or killed in the fighting.
"Many of my friends, they are fighting," Lana said. "Some of my friends, they were killed and it's a very hard situation."
She said she heard the news of casualties from the soldiers' families.
On Tuesday, the streets of Tbilisi were calm, but people continued to stockpile food and water. Gas was scarce.

See a map of the region »
Zurab Tatanashvili, a university lecturer, said the fighting prompted people to make tough decisions about whether to stay at home or try to find a safer place.
"The people I know -- they have things packed in their bags and are ready to go," he said. "The [problem] is that nobody knows where to go.
"So we just stay at home, to be on the safe side. ... I mean, the safer side," he said. "There is no 'safe' area in Georgia."
Proclamations by the two nations' leaders did little to calm the jitters.
Russian President Dmitry Medvedev announced a halt to the military operation Tuesday afternoon. Earlier, Georgian leader Mikheil Saakashvili assured residents the capital was not under immediate threat.
"We received assurances that Tbilisi will not be attacked, but the same thing was said about the town of Gori," Lomsadze said.
Russian warplanes bombed Gori this week. Among the casualties there was a cameraman for a Dutch television station.
"Its state university, hospital, market and the building of local administration is bombed," said Nina Kobakhidze, another resident. "It's an impossible and unacceptable situation in the 21st century."
For the most part, residents in Tbilisi are still able to access the Internet, TV and radio for news about the conflict, but some Russian sites are blocked.
"Hopefully it will remain that way," said Alexander Gaeashelishvili, who works for a nonprofit wildlife conservation group.
Despite the bleakness of the past few days, Georgians around the world held out hope. It was particularly strong Tuesday, the anniversary of the Battle of Didgori -- it was on this day in 1122 that King David the Builder defeated the Turks and captured Tbilisi.
Givi Bitsadze, who lives in Philadelphia, Pennsylvania, and has relatives in Georgia, looked to history for clues to what the future holds.
"Eight hundred and thirteen years ago, we survived and won the battle not anyone believed we would," he said. "What on earth can break our will for freedom?"
E-mail to a friend

All About Republic of Georgia • Russia • Mikhail Saakashvili