By Mike Steere
For CNN

LONDON, England (CNN) -- Kofi Annan has an ambitious vision for Africa.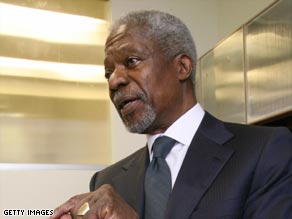 Time for change: Kofi Annan believes political progress is beginning to take effect in Africa.
After centuries of widespread slavery, colonization, and conflict, he believes the continent is now ready to make significant political progress.
And few people possess greater authority to make such a statement about African politics than the former United Nations Secretary-General.
Born in the Ashanti province of Ghana in 1938, Annan has had a remarkable international diplomatic career highlighted by leading the United Nations and winning a Nobel Prize.
His life has been shaped by his upbringing -- a time when Ghana (then Gold Coast) was struggling for independence from colonial ruler Britain.
Now, more than 18 months after leaving the Secretary-General post (1997-2006), and despite passing the age of 70, the softly-spoken diplomat is still actively advocating policies to help the poorest and most vulnerable countries, and is particularly eager to share his strong views on democracy in Africa.
Now, Annan believes, is a crucial period for the continent that has had such a troubled recent history.
"I think people are becoming aware; first of all of their rights, and they are beginning to understand how the political game is played," the Ghanian told CNN.
The leaders of post-independence African states were never to going to find a successful method of governing quickly, he said.
"Let's face it. Those leaders started, objectively speaking, from much lower standards of economic development, public policy and good governance. These were men and women who had never governed, who were colonial subjects while the colonial powers led everything."
Despite ongoing troubles with Robert Mugabe's rule in Zimbabwe and conflict in Sudan, Somalia, and Mauritania -- among others, Annan feels the political situation in some parts of the continent is improving.
"In traditional African society we normally have a lot of discussion ... but somehow with modern politicians who are determined to hang on to power that sort of discussion doesn't take place.
"But this situation is improving. We have a very dynamic civil society coming up ... I'm extremely impressed with the civil society in Kenya who have ideas and are speaking out."
But, all of this does not necessarily mean that democracy offers an instant solution to Africa's problems.
For Annan, the question of how to improve governments ties in closely with a defining lesson from his youth.
Annan has widely referred to a story where he was forced to adopt a local habit of wearing earmuffs in the U.S. winter, despite initially refusing to.
The lesson he took from it, as he told the New York Times, was to, "Never walk into a situation and believe that you know better than the natives. You have to listen and look around. Otherwise you can make some very serious mistakes."
Annan brought that approach to his dealings with African states, and maintains today that the process of democratization needs to occur naturally -- in line with the wishes of natives.
"There are certain basic tendencies of democracy, rule of law, and human rights which is applicable to every society, but the society must find their own way of applying it and how to deal with it. I think democracies must be home grown.
"We can learn from the West and we can learn from other societies ... honestly speaking, none is born a democrat and none is born a good citizen. It takes work and dedication," he told CNN.
Although less directly connected to the fortunes or otherwise of African states nowadays, Annan still watches affairs in African politics with interest and at times admiration.
He is particularly moved by what he describes as "extremely encouraging" progress in Kenyan politics.
Political problems in Kenya had been aided by intervention from the African Union, as well as the international community. There was now a strong civil society developing in the state, he said.
Annan does lament some misconceptions in the West about tribalism being a major hurdle to progress in Africa. The issues are not always as the may appear, he argues.
"When the cloth of government is not seen as being stretched to cover everyone in society you tend to have these divisions, so the issue for me is not tribalism, but the way to handle governance, distribution of limited resources ... and equal access to opportunity for all."
Despite having his share of critics, as a diplomat, Annan will be generally well remembered. Former U.S. ambassador to the United Nations, Richard Holbrooke, once described him as "the best secretary general in the history of the UN".
His affection and sense of calm characterised his diplomatic style, and these attributes continue to show through in his words.
Looking forward he suggests that supporting, not judging African societies will ultimately help achieve peace and stability in the region.
"Sometimes we are a bit too heavy-handed. We criticize, we condemn, but we don't encourage," he said.
E-mail to a friend