By Robin Oakley CNN European Political Editor
LONDON, England (CNN) -- European Union heads of state and government meet in Brussels on Monday to discuss what to do following Russia's crushing of Georgia. Can they make a better job of facing down Russia's new assertiveness than NATO's foreign ministers did?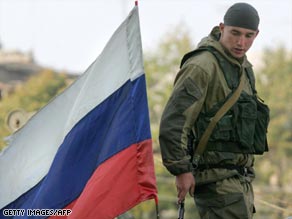 The Russian military in South Ossetia on August 29.
Moscow's response to NATO's warning that normal relations could not continue was to swat it away with a contemptuous "See if we care." Russia simply announced in return it was severing its working arrangements with NATO.
Since then both sides have been maneuvering. To the amazement of most European diplomats Russian Prime Minister Vladimir Putin claimed to CNN that the U.S. had pushed Georgia's Mikheil Saakashvili into provoking the crisis as a U.S. presidential campaign tactic. Do you think the EU should take action against Russia?
Britain's Foreign Secretary David Miliband rushed to Ukraine, the other potential NATO candidate in Russia's "near abroad." But that wasn't just to signal to Moscow not to push things too far in targeting other former Soviet Republics and to indicate support for President Victor Yuschenko.
It was also to warn him not to fall for Russian provocation in the Crimea, where Russia leases port facilities until 2017, and so give Russian President Dmitry Medvedev and Putin any pretext for intervening there.
How tough are EU leaders prepared to play? What sanctions might they have in mind against Russia over the violation of the Georgia cease-fire agreement? After all, French President Nicolas Sarkozy, currently in the six-monthly revolving EU chair, has insisted that there would have to be "serious consequences" for any breaching of the terms he negotiated with Medvedev.
The EU has scheduled for September 15, for example, a meeting to discuss a new EU/Russia partnership. What will the Brussels conclave decide about that?
Will the EU call for Russia to be punished for re-drawing borders in the Caucasus by being excluded from the G8 grouping of leading industrialized countries? After all the others who constitute the original G7, including the UK, France, Germany and Italy, have condemned what Russia did in Georgia.
Will the EU leaders threaten to oppose Russian membership of the World Trade Organization? While the U.S. State Department has suggested Russia will now have great difficulty getting into the WTO the European Commission is saying that it still believes Moscow's admission is both right and possible.
One little snag there though for Russia. Georgia is already a WTO member, in possession of a veto.
Will the EU leaders in Brussels offer to speed Georgia and Ukraine into the EU?
Linked to those questions is another. How hard will Russia play it in return? Already before the weekend there were leaks suggesting Russia would start turning off the pipelines which supply many EU countries with more than a third of their energy supplies. What might that do to oil prices at western pumps?
Russia's action in Georgia may be costing it economically. There has been a sharp fall-off in inward investment. But in the current volatile energy market Russia is not without retaliatory weapons, at least in the short term.
EU ministers won't have forgotten that just after Prague signed up to participation in the U.S. missile defense plan in July a sudden "technical difficulty" with the Druzhba (Friendship) pipeline resulted in a 40 percent drop in supplies to the Czech Republic. Similarly supplies were cut to Estonia during a row over the removal of Red Army memorials.
If the EU hand looks a little weak and its leverage limited, things have not been going entirely Moscow's way. Russia did not get quite the fulsome degree of support it had hoped for from the Shanghai Cooperation Organization in Dushanbe, Tajikistan, for its recognition of South Ossetia and Abkhazia.
This loosely- knit group, which Moscow would like to mould into some kind of counterweight to NATO, includes former Soviet republics like Kazakhstan, Uzbekistan, Kyrgyzstan and Tajikistan. But it also numbers China among its members -- and Beijing, with Tibet in mind, is not too keen on precedents encouraging the recognition of breakaway regions.
The Dushanbe meeting supported some elements of Russian intervention but called for a peaceful resolution of difficulties and stressed the importance of territorial integrity.
So what are we likely to see at the end of the Brussels meeting? Even well in advance French Foreign Minister Bernard Kouchner is conceding that the EU is split on sanctions against Russia and may impose none.
Sarkozy called Russian recognition of the enclaves "simply unacceptable" but added: "Nobody wants to go back to the time of the Cold War. NATO is not an adversary but a partner of Russia. As for the EU, it seeks to build with this country a close and positive relation. It is for Russia today to make a fundamental choice."
Baltic nations and Poland, a close ally of Ukraine, will be pushing for tough language and action. But Germany, Italy and even Britain do not believe that isolating Moscow is a sensible way forward.
Because of the difficulties in securing agreement it seems likely that the focus will be more on helping Georgia than on penalizing Russia. The meeting is likely to approve sending a civilian monitoring mission to Georgia, increasing aid there and in Ukraine and Moldova and relaxing visa restrictions on Georgians.
As for encouraging noises to Ukraine about eventual EU membership, those can be expected too. Russian opposition to that idea has so far been comparatively muted. But remember that the EU is currently in an anti-enlargement mode after Romania and Bulgaria were rushed in prematurely.
And there is that awkward little matter of the new EU constitution, rejected in a referendum earlier this year by Ireland's voters. There can be no more enlargement, Sarkozy has insisted, until a new constitution has been agreed by all 27 existing members.
E-mail to a friend

All About South Ossetia • Republic of Georgia • Russia • NATO • European Union • Ukraine • Poland