By Robin Oakley CNN European Political Editor
LONDON, England (CNN) -- Europe and Russia, says the EU's current chairman Nicolas Sarkozy, are at a crossroads. Heading for a 'crucial' meeting with Moscow's leaders on September 8, he said at the Brussels emergency summit that Russia had to decide whether it wanted isolation or co-operation with its 27 neighbors.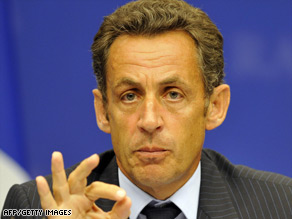 The EU, led by France's President Nicolas Sarkozy, has presented a united front over Georgia.
He added that while the EU wanted peaceful co-operation "it takes two to tango."
There are, of course, obvious difficulties in doing the tango at a crossroads. Without some pretty nifty footwork you can end up in a tangled heap.
At the moment the steps on both sides are designed to indicate that if a resumed Cold War is to be avoided then it's up to the other partner to make the essential move.
The EU says that Russia must observe the six point Georgian ceasefire agreement in full, withdrawing all troops to behind the lines occupied on August 7.
It has suspended negotiations on renewing its outdated "strategic participation agreement" with Russia until that has been done. The EU stands ready, said Foreign Policy Chief Javier Solana, to deploy significant numbers of monitors to ensure the ceasefire stipulations are met.
Russia, in the shape of Foreign Minister Sergei Lavrov, says that if the EU countries continue supporting Georgia's President Mikhail Saakashvili as enthusiastically as they are doing, they will be making a historic mistake. The implication being that they will forfeit co-operation with Russia for a long time ahead.
And while Russia previously insisted that it was not in the business of 'regime change' in Georgia it now says there should be an arms embargo on Georgia until Saakashvili has been removed from office.
So what were the lessons of the EU's emergency summit in Brussels which was to begin a 'root and branch examination' of relations with Russia, to use UK Prime Minister Gordon Brown's words?
The first is that the EU is interested only in a political solution, not a military solution, in the Caucasus and Russia's 'near abroad'. It has neither the military muscle nor the diplomatic will for any other course.
But to demonstrate that the EU is united in condemning the scale of Russia's reaction to Saakashvili's military action in South Ossetia and its re-drawing of the regional boundaries by force, the EU has promised Georgia strong economic and political support.
It has expressed its anger with Russia not by invoking sanctions like the cutting back of the G8 to the old G7 without Moscow or by seeking to block Russian entry into the World Trade Organization, but by promising to help reconstruct a ravaged Georgia.
With the testosterone group in the minority it was a carefully calibrated response to events which have genuinely shocked EU leaders. Enough to indicate that lines have been wrongly crossed without provoking worse, enough to irritate, without infuriating, Russia.
As Germany's Chancellor Angela Merkel put it "I think we found an excellent compromise by not going back to business as usual, but still making clear that we want to maintain contact with Russia."
By EU standards it was a fairly effective public demonstration of unity. And the EU countries agreed too, for the umpteenth time, that they must pull together an effective common energy policy that makes them less dependent on a Russia which currently supplies 40 per cent of their gas and a third of their oil.
Most of us veterans of EU summits will believe that when we see it. Getting 27 countries to give up total control of their own energy supplies and pledge to hand over some of their reserves to help any neighbour in trouble with Moscow is a lot harder than it looks.
But if the EU can make more of a reality of such a policy it will count. Russia may be in a strong negotiating position as such a big supplier to Europe. For a while it could cause major difficulties if it turned off the taps for political reasons.
But look at the obverse. By doing so Russia would stand to lose 70 per cent of its energy market, and its reputation as a dependable business partner. Already, post Georgia, Russian companies are feeling the pitch, seeing stock prices sliding and finding loans harder to raise. In the end such commercial realities may have as much influence on Russian behaviour as any documents and discussions emerging from Brussels.
With Russia in its current assertive mood what is harder to see at this stage is how Sarkozy and the EU can back up his assertion that "We cannot go back to spheres of influence. Yalta (the conference which sorted out Europe's post-war borders in 1945) is dead."
As Vladimir Putin takes time off to subdue a tiger or two in single combat (at least he kept his shirt on this time) Ukraine, Moldova, Azerbaijan and a few others would like to have a precise answer to that question.
E-mail to a friend

All About South Ossetia • Republic of Georgia • Russia • NATO • European Union • Ukraine • Poland