By Melissa Gray
LONDON, England (CNN) -- Graphic pictures showing the devastating health effects of smoking began appearing on cigarette packs in Britain on Wednesday as part of a government initiative to deter people from picking up the habit.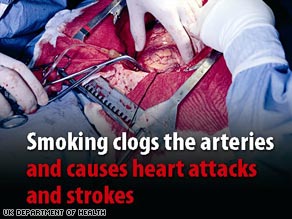 One of the cigarette packs shows the health effects of smoking.
The new warnings include a picture of a red, bulging tumor on a man's neck, brown and yellow diseased lungs, and a flaccid cigarette to highlight smoking-related impotence.
British government regulations introduced last year require manufacturers to start printing the warnings on cigarette packs starting Wednesday.
It will still be some time before they start appearing in stores, however, because merchants must sell all of the existing stock first, a spokesman for Britain's National Health Service (NHS) said.
The picture warnings will replace the existing written warnings which warn smokers in brief, bold phrases about the dangers of smoking.
Britain's Department of Health said the written warnings -- which include the simple phrase, "Smoking kills" -- have been a huge success, prompting more than 90,000 smokers to call a smoking helpline in the past five years.

Watch more on the UK's new anti-smoking campaign »
"These new stark picture warnings emphasize the harsh health realities of continuing to smoke," said Chief Medical Officer Liam Donaldson. "I hope they will make many more think hard about giving up, and get the help they need to stop smoking for good."
The Department of Health said visual warnings may be more effective than written ones. It cited research that suggests smokers are more likely to remember the damage they are doing to their health if they have seen a picture of it.

Watch more on reaction to the move »
The campaign follows other anti-smoking measures around the country. As of July 2007, smoking became illegal in all enclosed public spaces in the United Kingdom, and the NHS says 350,000 quit the habit last year thanks to local stop-smoking initiatives.
Smoking continues to be the biggest killer in England and causes the premature death of more than 87,000 people each year in England alone, the Department of Health said.
E-mail to a friend