MOSCOW, Russia (CNN) -- Russian authorities said Friday that the death toll from the North Ossetian suicide blast now stands at 12 -- and investigators believe that the attacker may have been female.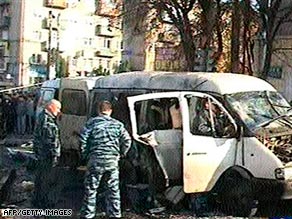 Police investigate the cause of the bomb blast in North Ossetia, which killed 12 people Thursday.
Thursday's blast struck a minibus in Vladikavkaz, the capital of Russia's North Ossetia, and occurred when the vehicle was unloading passengers at a market.
A further 41 people were injured, officials said.
Russian President Dmitry Medvedev has ordered the Federal Security Service and the Investigation Committee of the Prosecutor General's Office to launch an investigation, the Kremlin Web site said.
He also told the Federal Security Service and the Interior Ministry to increase security in the region.
According to the North Ossetia government Web site, a day of mourning will be held in the region for the victims of the bombing.
North Ossetia and the rest of the Caucasus region has been plagued with violence and political instability over the years.
North Ossetia borders Georgia's South Ossetia region, where the war in August between Georgia and Russia started. It also borders the long-turbulent breakaway region of Chechnya.
Beslan, a North Ossetian town, was the site of one of Russia's deadliest terror attacks -- the 2004 school takeover in which 331 people, mostly children, died.
Chechen warlord, Shamil Basayev, who claimed responsibility for the action, was killed by Russian security agents in 2006.
E-mail to a friend

All About North Ossetia-Alania • Russia