By Paul Sussman
For CNN

LONDON, England (CNN) -- Change -- probably the single word used more than any other by President-elect Barack Obama to enunciate his vision of a post-Bush America.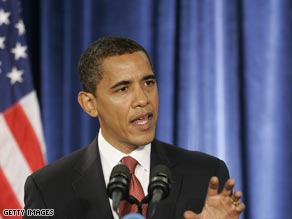 President-elect Barack Obama outlines his economic recovery package.
Flagged-up in speeches, interviews, book titles -- "Change We Can Believe In: Barack Obama's Plan to Renew America's Promise" -- and on just about every piece of Obama campaign merchandise you care to mention, Obama and his team have spent the past 21 months hammering home the message that an Obama presidency will represent a fundamental shift in direction from what has come before.
Check out the Obama-Biden transition team's web site -- titled, not surprisingly, www.change.gov -- and you will find that there is no area of government policy in which Obama is not hoping to "bring about the kind of change America needs."
Looming large over everything, however -- the dominant issue confronting the President-elect and his economic team -- is the U.S. economy, and how to steer it out of what Obama himself describes as "a crisis of historic proportions."
It is the issue that by some distance most concerns the U.S. electorate -- research by pollsters Edison and Mitofsky showed that 62 percent of voters placed it top of their list of concerns -- and the one on which Obama has focused most of his energies since November 4.
"A president needs to rank his priorities," says Professor Martha Joynt Kumar, director of the White House Transition Project, a non-partisan organization that helps smooth the exchange of powers between one administration and the next.
"In this case there is no question that the top priority is the economy and achieving financial stability. That's why, in his first press conference after the election, Obama appeared with his entire economic transition team.
"He wanted to send a message -- it's his key concern."
Daunting challenge
The scale of the problem facing Obama is daunting, with most commentators concurring that the current economic downturn is one of, if not the most severe to have hit the U.S. since the Great Depression the 1930s.
Wherever you look the figures are bleak. Incomes falling, unemployment rising -- currently 6.5 percent but predicted to climb to eight, or even 10 percent -- service and manufacturing sectors contracting, a $438 billion budget deficit and a national debt northwards of $10 trillion (the latter figure has ballooned so dramatically that the U.S. National Debt Clock in Times Square recently ran out of digits with which to record it).
In a recent interview with the Times newspaper, Ken Rogoff, former Chief Economist at the International Monetary Fund and a leading authority on the U.S. economy, singled out the unemployment statistics as a key yardstick of the severity of the crisis.
"Unemployment is a measure of how deep a recession is," he said, "And the U.S. is in for a very, very deep recession."
Dr Richard Mash, an economist at Oxford University, agrees.
"The situation is extremely bad," he told CNN, "Although, precisely how bad, it's difficult to say at this stage.
"Without appropriate action it's likely to be at least as bad as the recessions of the early 1990's and 1980's, with a potential to be even worse."
This is not simply a domestic issue. The health, or lack of it, of the U.S. economy impacts heavily on the wider world economy.
"The situation in the U.S. is hugely important to the economy of the rest of the world," explains Mash, "The level of consumer spending in the U.S., for example, has a direct effect on the UK and wider European economy.
"China, likewise, is extremely concerned about the current situation because the U.S. is a major export market for Chinese goods."
Dr Mark Weisbrot, co-director of the Washington-based Center for Economic and Policy Research, concurs.
"The U.S. economy is about a quarter of the world economy," he told CNN, "Other countries that rely on the U.S. market for exports are being hit very hard by the U.S. recession.
"If the U.S. doesn't solve its economic problems that will have a huge impact on much of the rest of the world."
The question of how -- and how successfully -- Obama can translate his message of change into practical and effective policies is, thus, one that will have not simply profound national repercussions, but international ones as well. Do you think Obama can make the changes he needs to?
Ambitious program
Although he doesn't officially take up the reins of office until his inauguration on January 20, 2009, Obama and his economic team -- including nominee Treasury Secretary Timothy Geithner and nominee Chief of the National Economic Council Larry Summers -- have already outlined an ambitious raft of policy measures designed to kick-start the flagging U.S. economy.
At its heart lies a fiscal stimulus package estimated to be worth $500-700 billion -- precise figures have yet to be released -- of which the centerpiece will be one of the largest public works programs since Roosevelt's New Deal of the 1930s, aimed at saving and creating up to 2.5 million jobs by 2011.
Other proposed measures include tax-relief for small businesses, a New American Jobs tax credit, raising the minimum wage (currently $6.55 per hour), a reform of bankruptcy laws, the extension of unemployment insurance benefit -- the list goes on and on.
It is an impressive and wide-ranging package, and one that, according to Mash "is definitely heading in the right direction."
"It's an extremely good start," Mark Weisbrot told CNN, "Obama has recognized the urgency of the situation and put forward a very positive set of policies.
"Fortunately he's not waiting until he actually takes office to get moving, because every month that he delays things are just going to get more and more difficult."
Protectionist concerns
How successful the measures will prove in changing the downward trajectory of the U.S. economy remains to be seen.
Obama's team has been careful to balance a message of hope with one of caution.
"We didn't get into this situation in a day or a week," Larry Summers has said, "And we're not going to get out of it in a day or a week."
And while the policy proposals have met with a generally positive response in the U.S., there are dissenting voices, even among those who are broadly supportive of Obama.
"I would have liked to see some more emphasis on a healthcare stimulus package," says Weisbrot, "And the appointment of people such as Geithner and Summers does concern me.
"During the 1990s they were supporting a lot of the financial deregulation that has got us into this crisis in the first place."
Furthermore, what is good for the U.S. is not automatically so for the rest of the world. While a stable U.S. economy is a prerequisite for broader global financial stability, there is an underlying nervousness that in order to safeguard U.S. jobs Obama will resort to overtly protectionist policies, which could have a knock-on effect on the employment situation elsewhere.
Obama himself addressed this issue in a recent speech, declaring: "The reality is that the economic crisis we face is no longer just an American crisis, it is a global crisis -- and we will need to reach out to countries around the world to craft a global response."
The concerns remain, however.
"The protectionist tone of some of Obama's speeches earlier this year certainly alarmed economists," Mash told CNN, "And it is greatly to be hoped he will not adopt a protectionist approach in the next year or two.
"If he does it could prove very harmful to U.S. trading partners in Europe and Asia."
Breath of fresh air
There is no question that Obama's message of change and renewal -- of "bending the arc of history towards the hope of a better day" -- has struck a chord with Americans, and his dynamic proposals on the economy have done nothing to dampen already high expectations for his incoming Presidency.
"He's certainly been a breath of fresh air," says Weisbrot, "I absolutely think he has the will and the leadership to steer the U.S. through this situation."
Obama himself, in a keynote campaign speech in Toledo, Ohio, on October 13, declared that future generations would judge the current generation on how they dealt with the economic crisis."
Will they say this was a time when America lost its way and its purpose?" he asked, "Or will they say this was another one of those moments when America overcame?"
The early indications are positive, but for the moment at least the jury remains out.
E-mail to a friend

All About Barack Obama