MOSCOW, Russia (CNN) -- Russian Prime Minister Vladimir Putin held his annual live television call-in program Thursday -- an event analysts say shows he still runs Russia even though he stepped down as president earlier this year.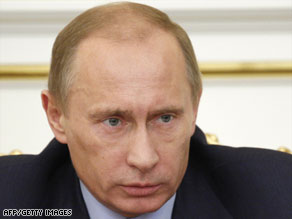 Russsian Prime Minister Vladimir Putin has continued the TV phone-in show he hosted as president.
In fact, the three-hour nationwide broadcast may mark the beginning of his campaign to be re-elected president, said Yevgeny Volk, the director of the Moscow office of the Heritage Foundation, a conservative U.S.-based think tank.
Putin appeared to try to bat down the widespread speculation that he plans to replace his hand-picked successor, Dmitri Medvedev, as president before Medvedev's term ends in four years.
"The next election is in 2012," he said after the broadcast ended, according to the Interfax news agency. He added that he likes the way his "tandem" with Medvedev is working, Interfax reported.
Many of the questions were about the state of the economy, but Putin was also asked about U.S. President-elect Barack Obama, and responded with cautious optimism.
"We are noticing some positive signals. We also hear that relations with Russia should be built with due regard for Russia's interests," he said. "If those are not just words, not just rhetoric ... then certainly our reaction will be appropriate, and our American partners will definitely feel that."
He tried to reassure Russians about economy amid the global financial crisis, though he said the country is passing though trying times.
"We have every chance to pass this difficult period with minimum losses for the economy and, what counts most, for our citizens," he said.
Putin has taken questions by phone and e-mail from Russians every year since 2001 -- but this is the first time he has done so as prime minister, not president. Medvedev replaced him as president in May.
"It would have been natural if Medvedev had been doing" the question-and-answer session this year, Volk said. Putin's continuing in the chair "clearly indicates that Mr. Putin remains in charge of the national leadership and is the national leader."
"I am watching and I see no difference between what he is saying now as PM and what he used to say as the president," he said.
Medvedev was not even in Russia during the broadcast. He was on his way to India for a three-day official visit.
Volk echoed an opinion common among Russia watchers, who say that proposed changes to the country's constitution are designed to clear the way for Putin to run for president again. The presidential term is being extended from four to six years, and there has been widespread speculation Medvedev will step down to allow Putin to run again when the changes are enacted.
Putin's broadcast "can easily be interpreted as the start of his presidential campaign," Volk said. "He is trying to convince everyone the government is doing everything brilliantly."
Putin took 72 questions during the broadcast, which lasted three hours and eight minutes. He shared a large desk with a moderator in a television studio that also included a live audience of several hundred in a ring around him, plus a call-in center taking calls from the public. The broadcast included satellite link-ups with locations including a hospital and a Navy dock, complete with a ship in the background.
E-mail to a friend