(CNN) -- A polar bear twin born last month at a German zoo has died less than a week after its sibling, zoo officials announced Saturday.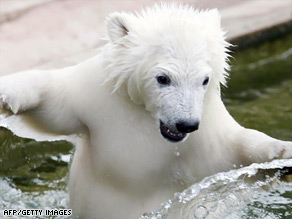 One year ago Vera gave birth to Flocke, pictured here playing in April.
The young bear died Friday at the Nuremberg Zoo, three weeks after the twins were born to the zoo's 6-year-old bear, Vera. The first twin died Monday, the zoo said.
Zookeepers watching the bears' cave on a closed-circuit video feed had noticed in the morning that the baby bear looked weaker, the zoo said. Around 2 p.m. (10 a.m. ET), Vera suddenly became excited, darted out of the cave and back in again, and started rebuilding her straw nest.
At that point, zookeepers saw that the young bear was making no more noises and was dead.
Zoo Director Dag Encke said he regretted the deaths.
"Vera nursed regularly and the young animal always slept well afterwards, so it seemed certain that it received enough milk," he said. "The reason that the young animal wasted away so quickly is not known."
It was a year ago this week that Vera gave birth to Flocke, whose cute antics and fluffy fur made him an instant celebrity across Germany.
E-mail to a friend