By Paul Willis
For CNN

(CNN) -- When you grow up in a place of war, your realities are inevitably driven by the violence surrounding you.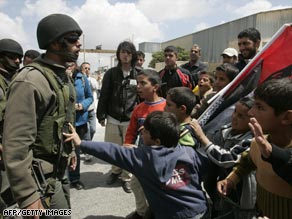 A young Israeli soldier confronts Palestinian youth: This is often the only contact young people have.
For young people born into the conflict in the Middle East, this means growing up quickly.
For Israelis, turning 18 marks a brutal coming-of-age. At this point most become eligible for military service (three years for men, two for women) -- a far more involved process than military service elsewhere in the developed world.
On the cusp of adulthood, they are thrust into the frontline of conflict: presiding over the uneasy tension of the checkpoints; hunting out insurgents in the West Bank; and living with the daily terror of suicide attacks.
For Palestinian youths the loss of innocence is much the same. Growing up they may well have seen their villages bombed, and their neighbors and family imprisoned or killed.
Young and impressionable, some run the risk of being dragged into violence: umbrella body the Coalition to Stop the Use of Child Soldiers has documented at least nine cases of suicide bomb attacks involving Palestinian minors between 2000 and 2004.
It is a horrific introduction to life, and one that inevitably breeds hatred on both sides.
Yet there is another reality.
Face-to-Face/Faith-to-Faith is just one of a number of projects trying to encourage greater contact, and promote better understanding between young people from both sides.
Each summer, six Palestinian and six Israeli teenagers go to a camp in the U.S. for an intensive two-week course that aims to teach them to use dialogue -- rather than weapons -- to resolve conflict.
At the camp, the teenagers meet other young people from regions scarred by violence such as Northern Ireland and South Africa.
The year-long process continues back in the Middle East where the young people are exposed to one another's communities and faiths. Palestinian youths learn the tenets of Judaism from rabbis, while imams teach Islam to Jewish participants.
Ron Kronish, head of the Interreligious Coordinating Council of Israel (ICCI), the non-governmental body that runs the project alongside a New York-based religious seminary, says the process involves first of all overcoming a lot of ingrained prejudice.
"There are literally no other ways these young people can meet, apart from in the context of the conflict. So there are naturally a whole lot of preconceptions on both sides," Kronish told CNN by phone from Jerusalem.
"Many young Jews see Palestinians as terrorists, and from the other side Jews are viewed either as settlers or soldiers.
"After that, there's a lot of talking. It's something we need more of out here -- talking that doesn't involve shouting."
Just 12 young people a year sounds like a tiny number given the scale of the problem. Kronish says the impact of the project extends beyond those selected to take part, however.
"We've been amazed at how positive and cooperative parents have been. Their usual reaction is 'Wow! What a great idea. How do we get involved?' We've had parent groups set up as a result of this."
Kronish's project is not the only one trying to normalize relations between Palestinian and Israeli youths.
The Center for Creativity in Education and Cultural Heritage, also based in Jerusalem, uses the folklore of the two communities as a way of fostering contact between pre-teens.
It is no surprise these organizations are pinning their hopes on the future generation, given the repeated failures of the current one to bring an end to the conflict.
The announcement this week of a ceasefire between Hamas, the militant Islamic group that runs Gaza, and Israel, is a minor note of optimism for the region.
Since former Israeli leader Ariel Sharon's controversial visit to the Temple Mount in Jerusalem ignited the second Intifada in 2000, over 4,200 Palestinians and over 1,000 Israelis have died, according to U.N. figures.
A potent symbol of the breakdown of the peace process has been Israel's construction of a barrier around the West Bank.
Face-to-Face/Faith-to-Faith students used the barrier as the basis for a project.
Palestinian and Israeli teenagers created art and films inspired by the barrier, some even organized a visit to see it, acting as guides for their family and friends.
The barrier remains a hugely divisive issue. Israel insists it was built to safeguard its citizens, while Palestinians accuse Israel of a land grab, complaining that it cuts deep into their territory.
According to Avigail Moshe, the ICCI's youth director, dealing with these contentious issues head-on is the only way to create an understanding between the two sides.
"Of course the program brings arguments and tensions to the surface. Actually, this is part of our goals. We can't, and don't want to ignore the fact we're bringing together young people from two nations that live in conflict," she told CNN.
"The aim is to help the participants to listen to the other. To learn more about the reality around them and to develop a complex view about this reality, and to develop empathy through the personal and collective narrative of the other."
E-mail to a friend