WASHINGTON (CNN) -- Israel conducted a major aerial military exercise over the eastern Mediterranean Sea this month, a U.S. military official confirmed.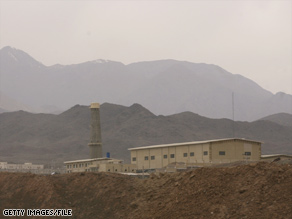 Israel reportedly may have wanted to show it can attack Iran's nuclear program, which includes the Natanz plant.
The June 2 exercise was first reported Friday in The New York Times.
The United States believes that the maneuvers were in part an Israeli effort to send a public message that it has the capability to attack Iran's nuclear program, the official said.
The exercise involved dozens of Israeli warplanes, including F-15s, F-16s and aerial refueling tanker aircraft, the official said. The size and scope of the exercise ensured that the United States and other nations in the region saw it, the official said.

Watch where Israel conducted the exercise »
The planes flew several hundred miles into the eastern Mediterranean.
The U.S. military calculates that the distance was roughly the same Israel would have to fly into Iranian airspace if it were attacking Iran's Natanz enrichment plant, the official said.
The Israeli military said its air force regularly trains for various missions to confront and meet challenges posed by the threats facing Israel.
Iran has said its nuclear program is for peaceful purposes. But it has refused to meet U.N. Security Council demands to halt its nuclear fuel program, and the International Atomic Energy Agency reported in May that Tehran had not provided critical information that would support its position.
An Israeli Cabinet member said this month that the Jewish state "will attack" Iran if it doesn't halt its efforts to develop nuclear weaponry, according to an Israeli newspaper.
"If Iran continues its program to develop nuclear weapons, we will attack it," Deputy Prime Minister Shaul Mofaz told Yediot Ahronot in the paper's June 6 report. "The window of opportunity has closed. The sanctions are not effective. There will be no alternative but to attack Iran in order to stop the Iranian nuclear program."
Mofaz's remarks came shortly after Israeli Prime Minister Ehud Olmert said at a pro-Israeli conference in the United States that the "Iranian threat must be stopped by all possible means."
"Israel and the United States have long understood the acute danger embodied in a nuclear Iran and are working closely in a concerted, coordinated effort to prevent Iran from becoming nuclear," Olmert said to the American Israel Public Affairs Committee convention.
"Israel will not tolerate the possibility of a nuclear Iran, and neither should any other country in the free world."
Mofaz's threat was one of the most explicit made against the Islamic Republic of Iran by a member of Olmert's Cabinet.
The threat was not without precedent. In 1981, Israeli warplanes destroyed an Iraqi nuclear reactor Saddam Hussein's regime was building. Israel also is reported to have targeted a Syrian reactor in September.
It also had significant political resonance in Israel amid talk that Mofaz is jockeying to replace Olmert, who is embroiled in a corruption investigation, as the ruling Kadima Party's leader and prime minister.
Mofaz was reiterating a prevailing view among Kadima officials and other Israeli politicians that international sanctions targeting Iran and its nuclear program aren't working.
E-mail to a friend

CNN's Barbara Starr contributed to this report.
All About Israel • Natanz • Iran • Ehud Olmert