BAGHDAD, Iraq (CNN) -- Jordan's King Abdullah II will travel to Iraq soon, a top Iraqi official said Wednesday, becoming the first monarch of an Arab country to visit Iraq since the U.S.-led invasion more than five years ago.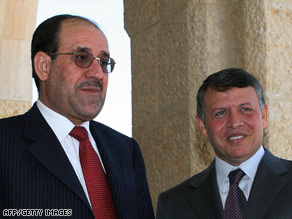 Iraqi Prime Minister Nuri al-Maliki, left, and Jordan's King Abdullah II meet in Amman, Jordan, last month.
Iraqi Foreign Minister Hoshyar Zebari said the trip -- along with others planned or made to Iraq by high-level delegations and leaders -- reflects a greater confidence in Iraq among the international community.
Zebari, speaking at a press conference, didn't give a date for Abdullah's visit.
Jordan, which borders Iraq to the west, and the United Arab Emirates are among the Arab countries that have named ambassadors to Iraq, Zebari said.
The announcement comes as Iraq's Shiite- and Kurdish-dominated government pushes to widen relations with Sunni Arabs, both inside and outside the country.
The largest Sunni Arab political bloc in Iraq is on the verge of rejoining the Cabinet after a nearly yearlong boycott.
Zebari also said Recep Tayyip Erdogan, prime minister of neighboring Turkey, is expected soon in Iraq.
Don't Miss
Leaders from the United States and Britain have visited Iraq, as has Mahmoud Ahmadinejad, the president of Iran -- the Shiite country on Iraq's eastern border.
Zebari said high-level economic and trade delegations from Turkey, South Korea, Japan and Oman recently came to Iraq.
He said that Iraqi Prime Minister Nuri al-Maliki is planning visits to Germany, Italy, and the United Arab Emirates.
Zebari calls such developments encouraging and said they reflect a profound "political opening."
E-mail to a friend

All About Iraq • Turkey • Nuri al-Maliki • Iran