(CNN) -- Iran's government spokesman on Saturday reiterated its right to develop nuclear power for peaceful purposes, a state-run news agency reported.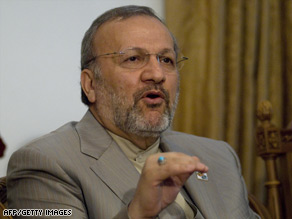 Iranian Foreign Minister Manouchehr Mottaki has suggested that Iran would never launch an unprovoked attack on Israel.
Gholam-Hossein Elham made the remark to reporters a day after Iran delivered a response to a world powers proposal that Iran suspend its uranium enrichment in exchange for economic and other incentives, the state-run Islamic Republic News Agency reported.
World leaders, such as those from the West, the U.N. Security Council and Israel, have been suspicious that Iran is using its nuclear program to develop weaponry. Iran has consistently disputed that and said it plans to use nuclear power for energy.
Elham said "Iran's stand on the issue has not changed" and that Iran "will not withdraw from legitimate rights of its people," IRNA reported.
"Tehran's stand is based on the legitimate rights of the Iranian nation as well as the international regulations. The Iranian nation will continue with the path determined by the Supreme Leader Ayatollah Seyed Ali Khamenei," Elham said.
The remarks in the IRNA report are paraphrased comments.
The incentives proposal to Iran was made last month by the foreign ministers of the five U.N. Security Council permanent members -- the United States, Britain, China, Russia and France -- and by the foreign minister of Germany, which has been involved in nuclear negotiations, and by European Union security chief Javier Solana.

Watch what a deal could mean »
Iran responded to those ministers on Friday.
Saeed Jalili, Iran's top nuclear negotiator, told Solana in a phone call that Iran's response focused on "common ground between the two sides and a constructive and creative view," according to Iranian news reports.
Along with the incentives, the European Union, acting on behalf of the world powers, also is offering a six-week "pre-negotiations" phase proposal, a gesture of goodwill and an effort to jump-start talks that have been at an impasse over Iran's nuclear aspirations.
It is calling for suspending any new sanctions if Iran takes a six-week break from installing or manufacturing any more centrifuges that enrich uranium.
That would mean Iran would be allowed to continue to use the more than 3,000 centrifuges it already has but could not manufacture more in that period.
But the world powers said in its letter to Iran last month "formal negotiations can start as soon as Iran's enrichment-related and reprocessing activities are suspended."
Mehr News Agency reported on Friday that Jalili and Solana "agreed to hold further talks later this month."
The talks come amid tensions between the Jewish state of Israel and the Islamic Republic of Iran, which doesn't recognize Israel's existence.
Israel believes Iran is intent on developing nuclear weapons and officials there have said the country won't tolerate a nuclear-armed Iran.
There are fears in the world community that Israel might be pondering a strike on Iran's nuclear facilities.
U.S. President George W. Bush has said he favors a diplomatic approach to settling the nuclear dispute with Iran but has not ruled out a military option.
In a recent interview, Iranian Foreign Minister Manouchehr Mottaki suggested that Iran would never launch an unprovoked attack on Israel -- in contrast to some interpretations of hostile comments toward Israel by Iranian President Mahmoud Ahmadinejad.
On Saturday, the commander of Iran's Islamic Revolutionary Guards said any "act of aggression" against Iran will prompt a stiff response.
"By using advanced rockets and lightning tactics, vessels of (Iran's) enemies shall sink deep into the Persian Gulf waters," said Maj. Gen. Mohammad Ali Jafari, who spoke to semi-official Fars News Agency.
Jafari -- who boasted of the Guards' advanced rockets and fast boats -- said his comments were meant to underline the forces' capabilities and strategies, not as a prediction of any war.
"Regardless of how well equipped and advanced the enemies' vessels may be, the tactics of the Iranian Revolutionary Guards and their lightning speed will give the enemy no chance to escape," he said.
E-mail to a friend

Journalist Shirzad Bozorgmehr contributed to this report.
All About Iran • Israel • Nuclear Energy • European Union