BAGHDAD, Iraq (CNN) -- A deadline should be set for the withdrawal of U.S. and allied forces from Iraq, and the pullout could be done by 2011, an Iraqi government spokesman said Tuesday.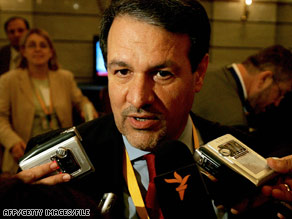 Ali al-Dabbagh, an Iraqi government spokesman, says a U.S. troop withdrawal in three to five years is possible.
Ali al-Dabbagh said any timetable would depend on "conditions and the circumstances that the country would be undergoing." But he said a pullout within "three, four or five" years was possible.
"It can be 2011 or 2012," al-Dabbagh said. "We don't have a specific date in mind, but we need to agree on the principle of setting a deadline."
Al-Dabbagh's comments come as the United States and Iraq try to negotiate a framework governing the stationing of U.S. and allied troops beyond the end of 2008, when the current U.N. mandate for coalition forces expires.
Al-Dabbagh said any such deal should include a withdrawal deadline. A day earlier, Prime Minister Nuri al-Maliki also said he favored a short-term accord that would spell out a withdrawal schedule for U.S. troops.

Watch report on how al-Maliki favors a timetable »
But in Washington, State Department spokesman Gonzalo Gallegos said U.S. negotiators are "looking at conditions, not calendars."
"Two things we've made very clear from the beginning of the process -- the first is that we're going to deal as sovereign nations working towards an agreement that satisfies both of our needs, and secondly that we're not going to be discussing individual parts of this negotiations during the negotiation process itself," Gallegos said.
Since taking control of U.S. Congress in 2007, Democrats have tried unsuccessfully to impose timetables for troop withdrawals. Some of the attempts were thwarted by filibusters from Republicans in the Senate.
Harry Reid, the Democratic leader of the U.S. Senate, told reporters: "I agree with Maliki."
"We should have a timeline. We've been wanting one for a long time," said Reid, D-Nevada.
Reid said it is time for the United States to "take off the training wheels and let Iraq handle their own affairs."
The Pentagon has repeatedly said conditions in Iraq including political and security milestones -- not timetables -- would guide whether the United States will remove troops. Those milestones include reduced levels of sectarian violence, political reconciliation and stronger Iraqi forces.
Republican presidential candidate John McCain said Tuesday the Iraqis have made clear that any withdrawal would be "based on conditions on the ground."
Maliki is "a politician," McCain told MSNBC. "He is a leader of a country that's finally coming together. The fact is that we and the Iraqis will deal in what is in the national security interests of both countries."
The United States is in the process of withdrawing the last of its five "surge" brigades -- those sent to Iraq in 2007 to bolster U.S. forces there. On Monday, Adm. Michael Mullen, the chairman of the U.S. Joint Chiefs of Staff, said violence in Iraq was down to its lowest point in four years and a decision whether to drop the number of troops below the level immediately preceding the surge would come later this year.
The Bush administration has been trying to strike a security deal with Iraq by the end of July, but disputes over the basing of U.S. troops and what authority they would have within Iraq make it unlikely an agreement will be reached by then, al-Dabbagh said.
"We still have our points of disagreement, and we are working on reaching the middle ground that will always guarantee us Iraq's sovereignty," al-Dabbagh said.
E-mail to a friend

CNN's Saad Abedine and Mike Mount contributed to this report.
All About Ali al-Dabbagh • Iraq War • Iraq • Michael G. Mullen