JERUSALEM (CNN) -- An Israeli border policeman has been arrested in connection with last week's shooting death of a Palestinian boy, an Israeli police spokesman said Sunday.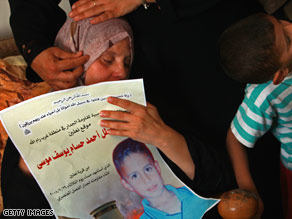 Maysaloun Moussa, mother of the slain boy, holds a poster bearing his image at her home Wednesday.
The border policeman was placed under house arrest Thursday, two days after Ahmed Moussa's death in the West Bank.
According to Israeli media reports, Moussa was shot in the head during a demonstration against an Israeli security barrier near the village of Nil'in. His age initially was reported to have been 9, but other reports have said he was 10 or 11.
Eyewitnesses said Moussa was killed when Israeli soldiers fired shots near a group of Palestinian youths during the demonstration.
The Israeli police spokesman refused to provide any details of Tuesday's incident, saying an investigation hadn't ended.
The Israeli military said it is "conducting a careful and thorough examination" into the death, including a joint medical investigation with Palestinian medical personnel. The military said the head of Israel's Central Command, Maj. Gen. Gadi Shamni, "is following the investigation closely."
A day after the shooting, Israeli Defense Minister Ehud Barak told CNN the boy's death was an isolated event "that we deeply regret."
Don't Miss
"There is [an] investigation taking place now to find how exactly it happened," Barak said Wednesday. "[It] shouldn't [have] happened and won't happen."
There have been numerous demonstrations in recent months near Nil'in, which is near Ramallah in the West Bank against the security barrier. Palestinians say the barrier will result in the seizure of their land.
On July 7, an Israeli soldier fired a rubber bullet at a blindfolded Palestinian protester taken into custody during a demonstration in Nil'in, according to an Israeli human rights group that released video of the incident.
The protester was not seriously wounded, but the video's release prompted a military investigation that led to the suspension of one of the soldier's superiors.
Barak denied the situation in the West Bank was "spiraling out of control," noting that Israel's actions to deploy forces and construct the security barrier were successfully battling "a wave of terror" against Israeli citizens following the failed U.S.-brokered negotiations with Palestinians in 2000.
"The incidents around Nil'in [are] there because we put this fence and we deployed the IDF [Israel Defense Forces] in the Palestinian cities following a wave of terror after Camp David failed that caused the loss of life of thousands [of] Israelis," Barak said "And it's only once we deployed this fence and the forces that we stopped seeing our people, citizens, indiscriminately exploding in their homes, buses, pizza shops or Passover ceremonies."
He said Israel has "a common interest" with Palestinian leaders in the West Bank to "enhance Palestinians' control" in the West Bank.
E-mail to a friend

All About Israel • West Bank • Ehud Barak